Tens of thousands now involved in the hunt for missing teenager
From the moment of Alice Gross' disappearance last Thursday the communities of Hanwell and elsewhere in Ealing have rallied round and committed themselves to a dedicated campaign to find her.
Many have wanted to help - to do anything they can - and been directed to a huge 'Find Alice' poster campaign. Thousands of posters have been printed and put on lamposts, in shops and handed out throughout the borough, London and much further afield.
Local people, who felt total despair at the news of the missing 14-year-old, quickly made use of various social media accounts, including twitter, and have encouraged hundreds of celebrities to tweet information about the missing teenager to spread the news further.
The hashtag #FindAlice was created and has been used repeatedly with local team Hanwell rugby club creating a photograph using their team shirts spelling out the hashtag to raise more awareness.
Alice's sister Nina set up a specially dedicated Facebook site which very quickly grew from a few hundred to now nearly 10,000 members.
Alice's family have been overwhelmed with the offers of help and have continually expressed their gratitude. Jose Gross, Alice's father wrote: '' the support & effort from everyone continues to amaze us. It has made such a difference, I don't know how we would have coped without you all.''
Ealing Council has been involved throughout, taking part in multi agency meetings, placing posters throughout its buildings, and staff who work outside have been asked to keep a special lookout. Other local authorities have also been informed.
Council Leader Julian Bell says:
''My thoughts go out to Alice's family who must be desperate to see her return home safely. As a council we are doing everything we can to support the police's search for Alice, including joining the significant social media campaign on twitter. We would echo the police's call for anyone who sees Alice to contact them or the charity Missing People.''
The charity Missing People will be at Ealing Broadway Shopping Centre today (from midday until 7pm) and it's hoped the message #FindAlice will be spread further.
The whole community want to hear news that Alice is safe and well and back with her family -in the meantime the campaign continues - stronger than ever.
Anyone who has seen Alice or has information that may assist the investigation should call the Incident Room on 020 8358 0100 or Ealing Missing Persons Unit on 020 8246 1018 or 101. Alternatively call the charity Missing People on 116000.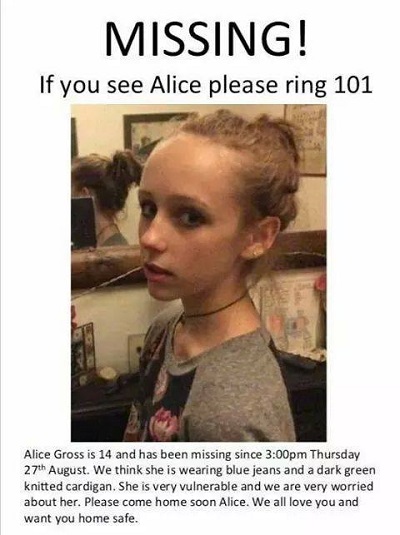 4th September 2014