Includes improved accessibility following talks between the council and TfL



East Putney Station approach
The council has announced plans to smarten up the entrance and approaches to East Putney station and potentially install lifts to the platforms have moved a step closer following talks between the council, Transport for London and tube bosses.
The council has been working with TfL on a project to enhance this part of Putney which involves improvements to the station forecourt coupled with other environmental upgrades on the Upper Richmond Road.
Following positive discussions TfL is now drawing up detailed plans to redesign the station forecourt, which would not only smarten the station's appearance but also provide new opportunities for businesses to set up in the area.
Meanwhile London Underground is to carry out a feasibility study into providing lifts up to the platforms.

The council is also keen to upgrade pedestrian and cycling links on the route between the Upper Richmond Road and Putney Bridge Road via Woodlands Way, Bective Road and Bective Place. This route would get better paving and surfacing, improved crossing points and other road safety measures.
As well as smartening up the station forecourt and improving passenger flows into and out of the station, work is set to be carried out to improve footpaths under the two adjacent railway bridges, as well as cleaning up the walls which are damp, dirty and unattractive.
New high quality and attractive paving could also be installed along the Upper Richmond Road between Keswick and Oakhill Roads and the High Street.
Funding for these improvements would be raised from a variety of sources including TfL and via contributions from property developers in this part of Putney who are required to pay sums via the community infrastructure levy (CIL) which is used to fund infrastructure projects in the area.

Transport spokesman Cllr Paul Ellis, said: "I'm pleased that these long-standing goals and ambitions are progressing and moving ever closer. Smartening up the station's forecourt, cleaning the walls under the bridges, laying attractive new pavements and creating better routes for pedestrians and cyclists will be a real bonus for the area.
"And if the feasibility study demonstrates lifts are possible we will press TfL to budget for them as it would be tremendous news for many users, especially disabled and older passengers, as well as those with heavy luggage and parents with young children in buggies."

And the council's cabinet member for employment, skills and business development Cllr Jonathan Cook, added: "This part of East Putney has seen lots of change in recent years with developments bringing new homes, shops and modern office space. Now we could see new opportunities for local businesses in a redesigned station forecourt.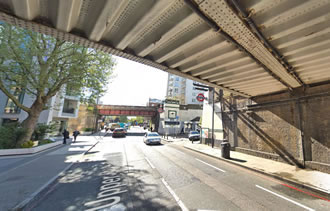 Between East Putney bridges - Google streetview
"We're also very keen to see further improvements beyond the station entrance, especially to the space underneath the two bridges which certainly does need a facelift. One possible idea for this area could be similar to the solution recently used at Balham station where a really striking and attractive piece of artwork was fixed to the wall and has been a huge improvement to the streetscape.
"There is money available to fund some improvements here and so we will be working closely with TfL and London Underground to bring these ideas to life."
June 27, 2019