87% Of Drivers Can't Stick To 20mph Speed Limit
---
20 mph limit was imposed across the borough of Wandsworth two years ago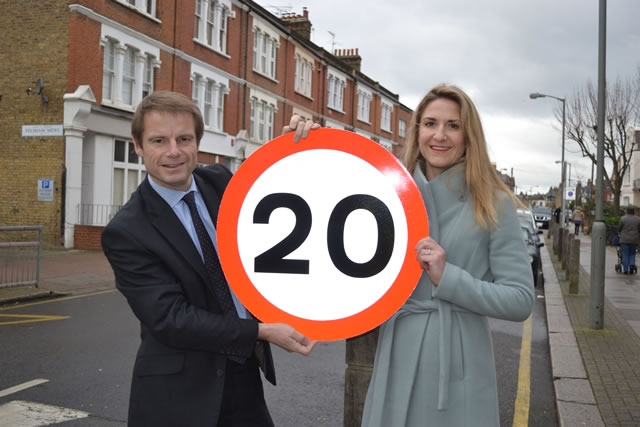 Cllr Cook & Cllr Caddy announcing the 20mph limit (2018)
At the end of June 2017, Wandsworth announced that the speed limit on quieter residential roads across the borough is 20mph in an attempt to make the roads safer and also encourage cycling and walking.

However, figures released today by the Department for Transport(DfT) reveal that sticking to a 20mph limit is too much for 87% of drivers. Contrary to these results, earlier research in 2018 or Wandsworth Council, following the 20mph introduction, from Police-led speed gun checks on nearly 7,000 vehicles showed that more than 80 per cent were sticking to lower speed limits across the borough, helping keep Wandsworth streets safer for pedestrians, cyclists and other drivers.

The DfT research also showed that 52 per cent of car drivers broke the limit on 30mph roads, while 46 per cent exceeded the 70mph limit on motorways.

In 2018, 59 per cent of residents supported the introduction of the lower limit on the quieter streets (64 per cent agreed the limit should not be reduced on main roads).
Amanda Stretton, Motoring Editor at Confused.com says:
"Speeding is a real problem on our roads. Our own research found that four in five (79%) drivers have admitted to breaking the speed limit. There is no excuse to risk putting all road users in danger".

Accidents involving collisions between pedestrians and vehicles are three times less likely to be fatal if the speed of the impact is 20mph compared to 30mph.

June 27, 2019