RHN Gala Dinner At The RAC Club In Pall Mall
---
Can you support this flagship fundraising event?
The fifth annual RHN Gala Dinner takes place on Wednesday 8th May 2019 and all residents are invited to support the charity based on West Hill.

The Royal Hospital for Neuro-disability provides unique services and technologies for those who have become disabled following a serious brain injury. The charity, which works closely with the NHS but is not part of it, must raise money to provide facilities such as aqua therapy, assistive technology, music therapy, gardening and art sessions.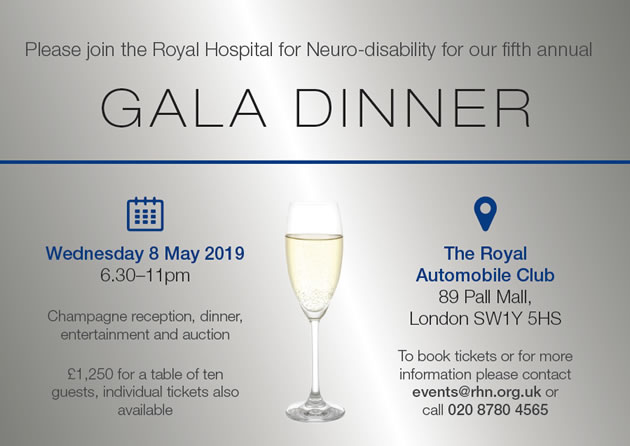 This year the RHN's annual flagship fundraiser will be taking place at one of the world's foremost private members' club, the Royal Automobile Club on Pall Mall.

With its classic architecture including marble fireplaces, chandeliers, mirrored panels and iconic car displays, the event is set to be as spectacular as ever. After a champagne reception guests will enjoy an indulgent three course meal complemented with wine, live entertainment and an auction.

Tables seat 10 guests for £1,250. To book tickets and for further information, get in touch with our events team – call 020 8780 4565 or email events@rhn.org.uk
January 22, 2019