Work has commenced on site to transform 11-acres of brownfield land along the banks of the Grand Union Canal into an exciting new waterside community. The mixed use scheme, named Brentford Lock West, will be delivered by the UK's leading waterside developer ISIS Waterside Regeneration and will comprise a mix of residential, commercial and leisure spaces. The first homes are due to be ready for completion in winter 2013, with off-plan sales planned to commence early 2013.
The five year project is expected to breathe new life into Brentford. In addition to providing much needed new housing, the scheme will deliver new community spaces and commercial buildings, helping to create new jobs for the area. With Willmott Dixon now appointed at the developer's main contractor, building work on site is underway. Willmott Dixon will be working closely with ISIS to deliver the first phase of this exciting new scheme – a collection of 150 one, two, three and four bedroom apartments and townhouses. Initial works planned for the site will also include the widening of the existing towpath, providing better access and a safer walkway for both new and existing residents. A new floating pontoon will also be installed.
Local initiatives and organisations, such as Cultivate London – an innovative, urban farm which aims to increase the amount of locally and organically grown produce available across London, will play a big part in the scheme's development. Cultivate London is already located on site and plans to include community allotments have been factored into the design. Close partnerships with other local organisations including Brentford FC Community Sports Trust, Active 360 and canoe club Edge have also been developed and the scheme will host a new watersports hub, to be enjoyed by the whole community.
Katie Sully, Development Director at ISIS Waterside Regeneration, said: "Brentford Lock West has been designed to really enhance and reinvigorate this area of Brentford, while capitalising on its waterside location. As works commence on site it is an exciting time both for us and for those looking for a new home in the area. We have already had considerable interest from a number of potential buyers, keen to find out more about the development and to register their details. We hope to be releasing the first homes for sale off plan from early 2013 and will be keeping both interested buyers and the wider community up to date with our progress."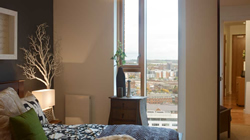 Tim Carpenter, Managing Director for Willmott Dixon Housing, said: "It's fantastic that ISIS Waterside Regeneration has chosen us to build phase one of what will be a tremendous addition to Brentford, bringing together a new community that will rejuvenate this area. The development will create a sustainable and thriving waterside community that responds directly to what the local community have said they want and need.
"Willmott Dixon and ISIS have a shared vision of sustainable development, and at Brentford, the scheme will benefit from a range of measures to use sustainable energy, including district heating, green roofs, roof top allotments and PV panels. In addition, improvements will be made to the moorings available to maximise the benefits of waterside living."
Throughout the planning process, ISIS worked closely with the local community to incorporate their views and ideas into the overall design of the new scheme. Both ISIS and Willmott Dixon will be continuing to maintain an open, two-way communication with local residents throughout the build process. Regular newsletters will be circulated within the local community and a series of update events will be set up, providing local residents with an opportunity to meet with representatives from both parties to raise any questions and to access an update on site progress and next steps.
This first phase of homes, which are due to be completed in winter 2013, will comprise a mix of 150, one, two, three and four bedroom apartments and townhouses, all for private sale, together with commercial units in the retained art deco buildings. Off-plan reservations are expected be taken from early 2013. Off plan reservations are now being taken and interested buyers are being urged to register their interest now by calling Stubbings Property Marketing 01628 482 276, emailing brentford@isis.gb.com or visiting www.brentfordlockwest.com



Advertisement