To mark the launch of National Allotments Week, residents at the new Brentford Lock West development in west London, are being given the opportunity to register for a plot on the scheme's stunning new roof top allotments, due to be ready later this year.
With the first of the development's new residents now settled into their new homes and just a limited number of apartments and townhouses left to sell on the initial phase, a real sense of community is now building here, with interest in the allotments proving high.
Situated on the roof top of Carrick Square, a stylish collection of 1, 2, 3 and 4 bedroom apartments and 4 bedroom townhouses, set around a beautifully landscaped communal garden, the allotments will provide green fingered residents with an opportunity to grow their own fresh produce, while getting to know their new neighbours.
John Robinson, Development Director at Brentford Lock West, said: "The demand for allotments continues to outstrip supply, as more people look for the opportunity to 'grow their own'. There are over 28 allotment sites available across the London Borough of Hounslow, all of which have waiting lists, so it's no surprise that interest in our allotments has already been considerable. When they launch later this year we hope to see the allotments become a lively and productive part of life here. A big focus for us at Brentford Lock West is to deliver a scheme that offers a variety of usable community spaces, which can be enjoyed by our residents for years to come – the allotments form a big part of this."
The running and on-going maintenance of the allotments will be managed by innovative urban farm, Cultivate London. The Cultivate team, which have been involved with Brentford Lock West since works first began and have previously grown a range of fresh produce on site, will be on hand to offer residents advice and guidance on how to make the most of their plots. They will also be responsible for their general upkeep and will ensure any unused plots are tended to.
Adrienne Attorp, General Manager at Cultivate London, added: "Using our specialist expertise we are really looking forward to helping new residents maximise their enjoyment of the stunning roof top allotments here."
Residents and purchasers keen to secure one of the allotment plots at Brentford Lock West are advised to get in touch with the development's Estate Manager to register their interest. Just a limited number of homes remain for sale on phase one. Apartment prices start from £464,950. Prices for the townhouses start at £895,000. For more information, or to book an appointment call the Brentford Lock West sales team at Stubbings Property Marketing on 020 8569 7449, email brentfordlockwest@stubbingsltd.co.uk or visit www.brentfordlockwest.co.uk
The Sales and Marketing Suite is open daily, 10am - 5pm.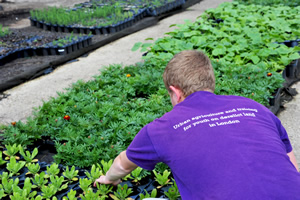 Advertisement