Celebrate Artichoke Week 15th - 20th April
---
At one of London's top Italian restaurants
Legend has it that Zeus fell in love with Cynara, a beautiful, capricious nymph, and out of jealousy transformed her into a vegetable with lovely prickly flowers and a sweet heart. The artichoke cynara carduluncus was prized by the Greeks and Romans for its aphrodisiac properties, but it was thanks to the Arabs that al-kharshouf, the modern species, was selected and farmed in Italy.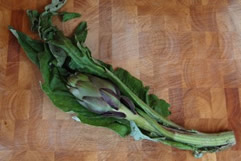 Widely grown in Naples by the 15thc, it was then brought
to Florence and Caterina dei Medici was instrumental in making it a fashionable vegetable throughout Europe when she introduced it to France.

Artichokes are rich in iron, helping the digestion, strengthening the liver function and reducing cholesterol.

2 Courses £27.50 / 3 Courses £32.50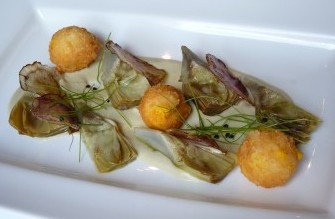 Soup of artichoke with carbonara tortellini and crispy pancetta
Artichoke "alla giudea" with cream of leeks and provolone fonduta
Seared cuttlefish with artichoke panzanella
***
Ravioli filled with ricotta Piemontese and artichoke, truffle and butter sauce
Fillet of brill with artichoke, fennel and burrata parmigiana, olive and caper sauce
Roast breast of guineafowl filled with artichoke, leg sausage, fresh peas and spring onions
***
Neapolitan ricotta cake with sour cherries
Caprese chocolate cake with limoncello cream sauce
Selection of sorbets and ice creams

April 11, 2013

Advertisment