Three Little Voices have beaten a large number of auditionees to land voice over parts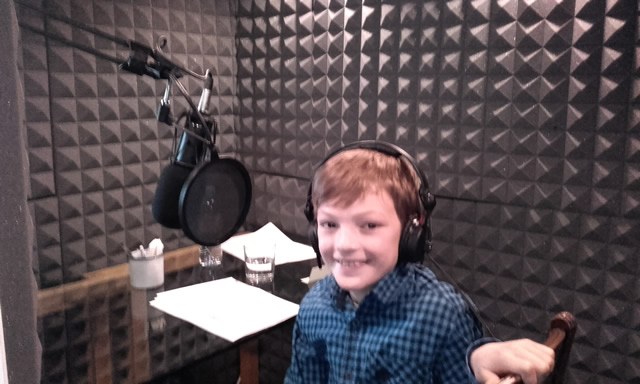 Three Little Voices pupils, Luca Walker , Sienna Rosenbaum and Anwar Berry have beaten a large number of auditionees to land voice over parts in a new CBeebies programme called 'Where in the World? Aimed to help British children develop more cultural awareness of children in different parts of the world, the Little Voices pupils are extremely excited to be part of this new programme set to hit our screens for the next five years.
The programme is set to be aired in May and Ashlea Pearson Little Voices South West London Principal says "I could not be prouder of these three pupils. They deliver outstanding performances in their lessons each week and I know this is only the start of great things to come for them all." Rhonda Evans (Programme Director) states "The children from Little Voices were delightful to work with and truly professional in that they took direction and delivered the narrative with flair and humour. They certainly rose to the challenge!"
Luca Walker, who took part in the voice over says "I loved working with the CBeebies production company. It was a great experience and I wish I could do it again and again!"
Little Voices focuses on expert guidance and traditional teaching methods in singing and acting, working towards acting and musical theatre examinations through 'The London Academy Of Music & Dramatic Art' . Little Voices tutors facilitate each individual child and really care, enabling wonderful results for the pupils .
Ashlea Pearson said, "Due to a huge growth in demand for our lessons further classes have been scheduled on every evening of the week across the area to offer even more children the opportunity to train with the best and to develop their talents and confidence with Little Voices. Places are filling fast and anyone interested should apply as soon as possible for a Free trial lesson or to reserve a place on our summer performing arts weeks and workshops."
Little Voices offers lessons in singing and acting for children over the age of four. Its students have gone on to gain places in prestigious acting schools and television shows for Channel 4 and the BBC. The professional approach that Little Voices takes to tuition and LAMDA examinations, helps students to improve quickly and attain high standards.

Advertorial