Helping Local Businesses To Celebrate Christmas in Style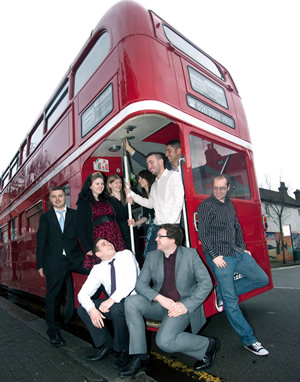 If you've ever driven past Morrison's on Brentford High Street, you will have noticed the large fleet of vintage Routemaster buses parked behind Dock Road – they're impossible to miss.
This is the home of leading London vintage bus operators, RedRoutemaster.com.
Since 2011, RedRoutemaster.com have specialised in supplying their beautifully restored vintage Routemaster buses for weddings and celebrations. Over that period, their fleet has enjoyed being part of over 2,000 weddings and being the focal point of hundreds of celebrations, proms and birthdays.
RedRoutemaster are also keen supporters of the community and support two local events; the Hanwell Hootie and the Brentford Festival. They have been the proud supplier of the famous 'Busking Bus' for the last 4 years, which sees them removing seats from a bus to create a performance space as well as providing shuttle bus services 655 & 657 to get people from Northfields, Ealing, Hanwell and Brentford to these events, meaning fewer cars and congested parking outside residents' houses during these events.
In recent months, RedRoutemaster.com have diversified their services to start working with business, hospitality and events.
Most notably, one of their buses was recently turned into a Hendricks Gin experience bus that toured London and Edinburgh whilst another one of their buses has been used to deliver a highly popular 1960's music tour.
But with Christmas fast approaching, RedRoutemaster.com are currently receiving enquires from businesses across West London that want to hire RedRoutemaster's vintage buses to transfer their staff for their Christmas party.
This unique mode of transport has been a big hit by allowing businesses to transport their staff in a low-cost way whilst delivering a unique and memorable experience.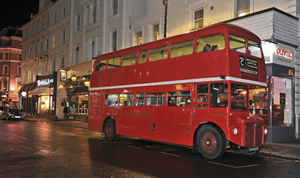 In order to help local businesses to celebrate in style, RedRoutemaster.com are currently running a special offer until the 10th December – where they're giving a huge 40% discount on all bookings that have a pre-4pm drop-off.
This means that if your booking finishes prior to 4pm at any point, Monday-Friday during November or December – they are reducing the booking fee by 40%

Quote "Christmas" when booking for your discount.
You can contact RedRoutemaster by calling 020 7000 1952 or visiting www.redroutemaster.com
Each one of RedRoutemaster's vintage buses can transport up to 72 passengers, whilst most coaches struggle to fit more than 60 - and they typically cost less than a coach to hire, with bookings starting at just £500.00 per bus for a single transfer (before the 40% special offer).
All vintage buses have a professional sound system built in, allowing passengers to play their own music or use microphones to deliver speeches, tours or play games or quizzes.

Buses can be fully branded, whether with custom blinds displaying a specific name on the front, side and back of the bus, or with a full bus wrap to make the bus unmissable.
You can even include a host of extras from custom printed tickets to a glass of fizz for every passenger that steps aboard.
To claim your 40% discount on your RedRoutemaster.com booking by taking advantage of our pre-4pm drop-off.

Then contact 020 7000 1952 or visit www.redroutemaster.com
Advertisement
November 22, 2017