The Italian Plumber is on a quest for minimalism. (Ad)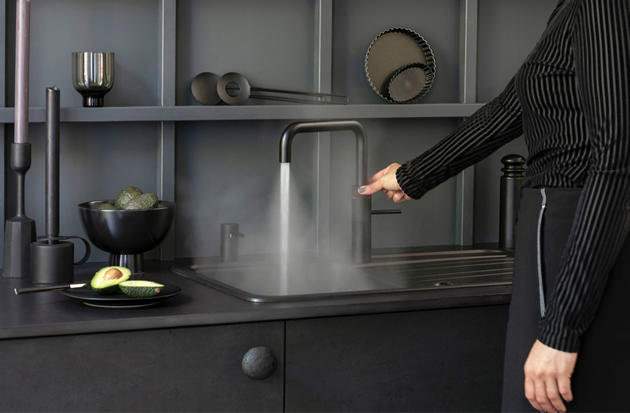 Imagine getting up in the morning and not having to wait for your kettle to boil.
You just make your hot drink – straight from the tap – and you're good to go.
Or what about chilled or sparkling water? No more having to store loads of bottles in the fridge, or sort through the recycling once you're done with them.
Well, this is exactly what you get when you invest in an instant hot water tap.
There are plenty of different models to choose from, and I will place links to two manufacturers at the end of this article.
The tap I bought, to be frank, is amazing. I went for the full package: hot water (100 degrees), sparkling, chilled, and filtered. So, not only does it conveniently give me the kind of water that I want within a second, it provides a level of purity that makes me happy to stop buying mineral water.
One of the best things about it is that it cuts the cooking time of pasta in half.
In fact, anything you need to boil… vegetables, gnocchi, whatever… is done so quickly, you'll spend more time enjoying your food, and less time actually cooking it.
There are also different litre capacity options, and some have attachments that make doing the washing up real easy – just give those plates a blast and you're all good.
However, I don't recommend that you use the boiling hot water to flush your sink of grease and grime. You can find out why in this month's Ask Samuele.
I also wanted a more minimal look in my kitchen. I don't like clutter, and if I can find a way of freeing-up more space, that's good for me. I think the toaster's days are also numbered.
I bought mine from Quooker, but there's also another company called Grohe, which is worth checking out. If you're considering buying one, we'll happily take care of the installation for you.
So, yes. It's time to say 'goodbye kettle'. It's definitely easy street from now on.
Samuele The Italian Plumber
Other blog posts by Samuele can be read at theitalianplumber.co.uk/blog.
Until next time, if you have any plumbing or heating issues around the home, give us a call on 020 8945 7457.
Advertisement
June 7, 2021