An Enchanting Taste of Tuscany in the Heart of West London
---
Villa di Geggiano's special lunch menu (Ad)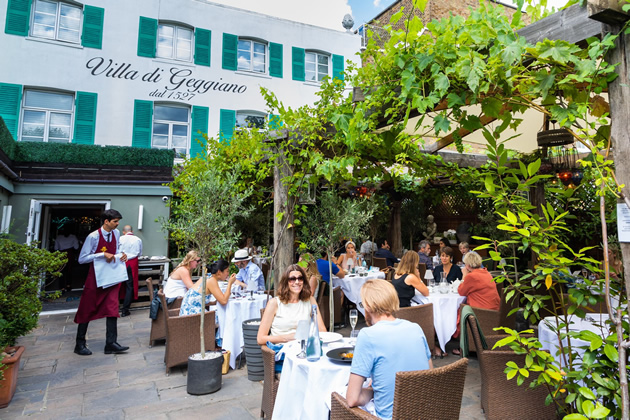 The Villa di Geggiano has built a reputation for serving the most delicious Tuscan Italian cuisine in West London (well, the whole of London, actually, but they're rather proud of their location in Chiswick – Sangiovese grapevines shading the huge terrace and everything!) They take pride in their food, too. Always using fresh, seasonal, sensitively-resourced ingredients, resulting in divine dinners, not to mention luscious lunches.

Actually, no. Let's mention the lunches.

Especially when they currently have special set menus on offer that provide such exceptional value. Two courses for £25 and three courses for just £30 – including tea or coffee.

The Villa di Geggiano is the London outpost of the original Villa di Geggiano in Tuscany which, for more than five centuries under the auspices of the Bianchi Bandinelli family, has been renowned for superb hospitality and generosity – as well as delicious food and sumptuous wines.

The care which goes into their menu is matched only by the attention to detail, for which this Chiswick landmark has become renowned. 'The Villa' is an elegant yet comfortable place to relax, enjoy good food, great Italian wines, and excellent company. As for the service, we hear from their regulars that the reason they're regulars is because of the excellent treatment they've come to expect from the attentive staff.
Villa di Geggiano, London. makes their own pasta and Italian ice cream on the premises, and they import the finest truffles all the way from Italy.

Art is a major feature of the Villa which welcomes all those with creative talent. One of the first things we noticed was the giant mural sprayed onto the outside wall by resident street artist Zabou, featuring another of the Villa's resident artists, the musician Eva Lazarus. Space is offered for artists to mount exhibitions, and there are nights dedicated to poetry readings and live entertainment.
There's also a business suite where you can get away from the office and meet in a discreet, inspirational, creative environment with some of the best food in the area ready to be brought to your own dining room.

Talking of dining rooms, the Villa offers a variety of spaces that can be reserved for private parties. and bespoke events, suppers, meetings, parties and photo shoots.

All in all, our opinion is, why slog all the way to the West End, when some of the best food outside Tuscany is right here in West London?

Advertisement
June 18, 2022