The West London Free School Sixth Form is an exciting new option for students living in London who are looking for a stepping stone to the best universities in the UK and beyond. A limited number of places are available for entry in September 2016 for current Year 11 students who expect to achieve five GCSEs at A*-B.

See note at bottom.
The sixth form, located in Hammersmith, is staffed by highly qualified teachers who have attended some of the best universities in the world and know what it takes to progress to Oxford, Cambridge and other Russell Group universities, Ivy League universities and colleges, as well as world-renowned specialist colleges in art and music. Many of these teachers mark Sixth Form examination papers and know the standards required to excel academically.
Opening this September, the West London Free School Sixth Form offers a stimulating range of academic A-level courses that will enable all students to develop an in-depth knowledge and mastery of their chosen subjects.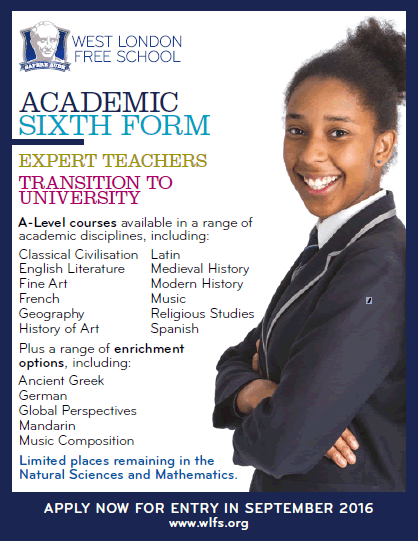 The exciting and highly prestigious Cambridge Pre-U Global Perspectives and Research course, as well as the Extended Project Qualification, stretch and challenge students and give them a wonderful preparation for university.
In addition students can enhance their leadership skills through a range of activities including the Duke of Edinburgh's Award, music, debating, as well as sport, drama, travel and charitable work.
Students are encouraged to develop intellectual curiosity, to read around their subjects and to attend lectures by leading academics. These essential study skills, alongside time management and organisation, are the qualities that will enable them to progress to the best universities and to fulfilling careers and professions.
In place of a uniform at the West London Free School Sixth Form, the dress code is smart in keeping with an ethos of high standards of professionalism and appearance.
An exciting induction programme is planned for the first two days of term, which includes activities in London and a visit to Cambridge University.
Students who would like to apply should email s.noel@wlfs.org at the earliest opportunity.
For more information visit wlfs.org/About/
Note: If these five GCSEs do not include English Language and Mathematics, then a Grade C in those subjects must also be achieved. A pass at Grade 6 for Music is acceptable in place of one GCSE at A*-B.


Advertisement