Battersea Park's historic and picturesque bandstand is to feature prominently in the movie that critics are saying could be the British film industry's smash hit of the summer.
A Royal Night Out, starring BAFTA Award Winner Emily Watson and Golden Globe nominee Rupert Everett, is now on general release and tells the story of VE Day 1945 through the eyes of two young princesses – Margaret and Elizabeth, our reigning monarch.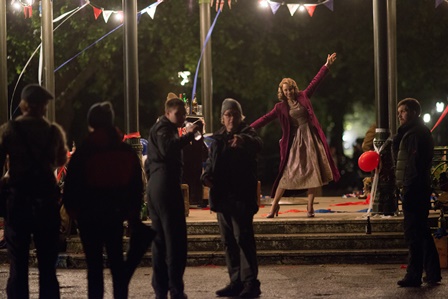 A young princess joins the celebrations
As Europe rejoiced in the defeat of Nazism and the ending of the Second World War, the two teenage princesses leave Buckingham Palace to join the millions of Londoners who took to the streets that night to celebrate, mingling with the crowds unrecognised as Britain partied like it never had before.
The film's release coincides with the 70th anniversary of VE Day.
One of its most memorable scenes was shot on location in Battersea Park with its historic bandstand providing a glimpse of 1940s London.
The park is a popular choice for filmmakers and has appeared in numerous feature films, TV dramas, adverts and publicity shoots in recent years.
Recent TV drama, The C Word, starring Sheridan Smith was shot on location there, as was 24, New Tricks, The Honourable Woman, Roald Dahl's Esio Trot, plus the feature film Jack Ryan.
Other high profile productions using the park have included The Woman in Gold, starring Dame Helen Mirren, Code of a Killer, Fast Girls, Little Crackers, Silent Witness, Above Suspicion, Episodes, Not Going Out and Get Santa, featuring Jim Broadbent.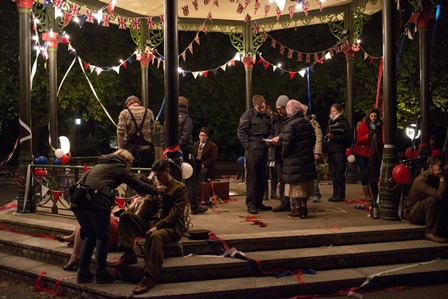 Behind the scenes..
The film and TV work is earning the town hall around £250,000 a year with film makers paying to use council-owned land and property to shoot their footage. The council's Film Office, which is based in Battersea Park, manages local film requests and initiates new business for the area.