Mayor Approves Battersea Power Station Plan
---
Boris Johnson gives go-ahead for major regeneration after decades of disuse
The redevelopment of Battersea Power Station has been given the go ahead by Mayor of London Boris Johnson, bringing closer the prospect of a major extension to the Northern Line and thousands of new jobs and homes.
The application was approved in November 2010 by Wandsworth Council before being referred to the Mayor as a scheme of strategic importance to London.

The project would see the Grade II* Listed power station restored and opened up to the public for the first time. It also includes a pledge of more than £200m towards a two-station extension of the Northern Line from Kennington. One new tube station is to be located at the Power Station site with another at Wandsworth Road to serve the eastern part of Nine Elms.

The proposals are key to the regeneration of the Vauxhall-Nine Elms-Battersea Opportunity Area which includes 227 hectares of land on the south bank of the Thames. The Greater London Authority estimates up to 16,000 new homes and 25,000 new jobs could be created across the area.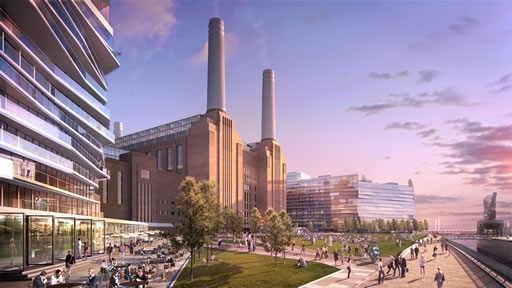 Wandsworth Council's Regeneration Spokesman Cllr Ravi Govindia says:
"This project will restore one of London's best loved landmarks while creating thousands of new jobs and homes. The Northern Line extension will breathe new life into Nine Elms and help transform the area into a vibrant place where people want to live and work."

The Mayor of London Boris Johnson says: "Battersea Power Station has long been an iconic feature of the capital's skyline, and these plans will make sure that status is retained for years to come. The building was once a vital motor helping to power the capital. With its future secured through this regeneration, it will once again play a part in driving London's economy."

The completed project would create more than 3,400 new homes and 15,000 new job and training opportunities across the 40 acre power station site. A pedestrian high street and town square are part of the masterplan, with space set aside for new shops, restaurants, bars, cafes, offices, a hotel, cinema and other community uses.

A new section of the Thames Path is to be created along with a five acre riverside park. Other outdoor recreation spaces would be provided as well as cycle paths and pedestrian walkways. As well as the Northern Line extension the scheme will deliver a series of local transport improvements including a new bus services and a new passenger pier to link Nine Elms with riverbus services into central London.

The works to repair the Power Station will begin at an early stage of the project and the building will be structurally secure by the end of 2016, including the complete restoration of the four chimneys.
January 2, 2011