New fibre optic network runs around 47 times faster than UK average
The GigafastTM fibre optic network is about to be made available to council tenants and leaseholders on a North Battersea estate, and will then be gradually installed across Wandsworth Council's housing stock offering well over 20,000 homes access to the same broadband speeds.

The fibre optic network now being installed in Thessaly House on the Savona Estate has clocked download speeds of 1086 megabits per second (Mbit/s) – around 47 times faster than the UK average of 22.8Mbit/s (Ofcom figure).
The network is being delivered by Community Fibre Ltd as part of a partnership deal with Wandsworth Council.
It will cost residents £30 a month to subscribe to the unlimited 'gigabit per second' service. There will be no 'line rental' charge as you get with some other broadband providers and there will be no limit on downloads.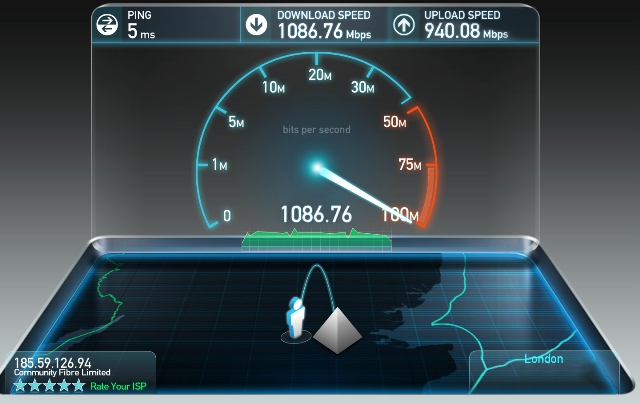 Above: the broadband speeds recorded at Thessaly House
The scheme is set to be a major breakthrough for London's broadband market as Wandsworth will be the first major landlord to retrofit its housing stock on this scale and with a fibre optic network capable of delivering such high speeds.
Until now most housing blocks in London, whether private or publicly owned, have to make do with slower, unreliable internet services provided over old copper telephone wires. In larger buildings these copper lines have to be longer, reducing service speeds further.
Wandsworth's new Community Fibre Network will not suffer from slower speeds at peak times and will enable local families to watch multiple high definition video streams while backing up precious photos and videos to the cloud. With such a high speed service this can all be done simultaneously with no drop in performance.
For people who work at home the services will provide a fast and stable connection, which is much stronger than the typical commercial broadband package and at a lower price.
Community Fibre Ltd, who run the The GigafastTM fibre optic network, will also be working with the council to identify estate households which currently have no internet connection so they can be offered an introductory package that will help them to get started on the web.
The new Thessaly House connection will be tested further in the days ahead and will be rolled out across the rest of the Savona estate later this year. The neighbouring Patmore and Carey Gardens estates will be next, followed by other council estates in Battersea.
As the estate based networks are established there will be potential for them to grow out across the surrounding areas. This could significantly reduce the time it takes for GigafastTM services to become available borough-wide.
The record breaking speed test was conducted this morning by Cllr Paul Ellis, cabinet member for housing. He said, "The speeds we're seeing are absolutely incredible. This breakthrough infrastructure project means our council estate residents are on course for some of the fastest home broadband speeds in the entire country. We're on the brink of a tremendous achievement that could set a blueprint for other social and private landlords to follow.
"It will mean our tenants and leaseholders have access to all the benefits of an incredibly fast and reliable broadband connection which will far exceed the speeds of existing services. It's particularly important for anyone with high data demands like the many local people who work from home or run their own business.
"Our ultimate goal is to see a network of this speed rolled out right across the borough and I encourage local residents to help us demonstrate the business case for this type of investment by completing our home broadband survey."
Tim Stranack, Business Development Director at Community Fibre, said, "We are delighted to be working with Wandsworth to revolutionise the way Internet services are delivered in the borough and beyond. Our fully fibre-optic GigafastTM service will provide residents with the internet services they need now and into the future. Our agreement with Wandsworth has generated significant interest in Community Fibre from a number of sources who we plan to work with to roll out our service to other parts of London."
The council has recently launched an online survey asking Wandsworth households to rate their home broadband and to help demonstrate local demand for faster services.
Councillors hope the results can help convince the industry to prioritise investment in Wandsworth's broadband infrastructure so more residents can access the next generation of fibre optic services.

September 9, 2015