Super fast service has clocked download speeds of over 1,000 megabits per second
More people living on estates in Battersea, Wandsworth and Roehampton are getting the chance to sign up for broadband offering some of the fastest connection speeds in London.
Wandsworth is the borough with the largest number of full fibre-enabled homes in London, and the Council's target is to make the service available to more than 10,000 properties by the end of the year.
Wandsworth is working with a company called Community Fibre Ltd to install its 'Gigafast' broadband in council-managed blocks. So far more than 5,500 homes across the Savona, Patmore, Carey Gardens, Doddington, Kambala, Rollo and Surrey Lane estates have the capacity to access the service.
Last week the Council announced that properties on the Winstanley and York Road estates, St James Grove and the Ashburton, Wendlesworth, Arndale, William Willison and Alton estates will be next in line. Work will be carried out over the next few months.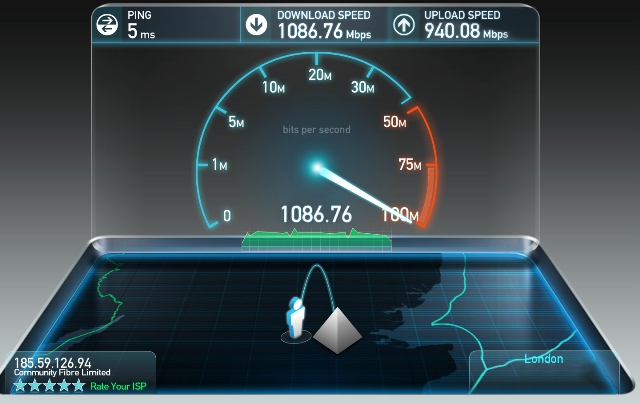 The Gigafast service has clocked download speeds of over 1,000 megabits per second (Mbit/s) – around 47 times faster than the UK average of 22.8Mbit/s (Ofcom figure). It uses optical fibre cables installed directly into people's homes, rather than the old copper technology.
Longer term, the council's partnership with Community Fibre Ltd aims to offer over 20,000 homes access to the Gigafast network over the next few years.
Using Gigafast broadband means that families are able to download films, music and browse on multiple devices at the same time with no drop in performance.
Equally, those who work or study from home could benefit from increased internet speeds and better accessibility.
The Gigafast service costs residents £50 a month to subscribe to the unlimited 'gigabit per second' speeds. Other packages are also available for residents who do not need a full speed service. Customers don't have to pay a line rental charge as with other providers, and downloads are unlimited.
The Council's housing spokesman Claire Salier said, "Ultrafast broadband means residents on our estates will be able to use multiple device, easily work from home or run a small business, stream as much media as they want and truly make the most of fast online access.
"I'm delighted that our partnership with Community Fibre has already connected so many homes, and I would urge residents on the next wave of estates to find out what this service could offer them."
To find out more or sign up for Gigafast broadband in your home visit the Community Fibre website.
October 2, 2017