'Your Business Your Growth' programme aids local entrepreneurs
Wandsworth Council is urging the borough's prospective entrepreneurs to get involved with the 'Your Business Your Growth' programme which offers free business support to all businesses, with specialist help available for the food and digital industries.
The programme is already helping dozens of existing and start-up businesses, but programme managers are particularly keen to hear from pre-starts – people who need help to turn their good idea, drive and energy into a thriving company.
"Wandsworth is blessed with a thriving business scene, but we've discovered that too many good ideas wither on the vine because prospective entrepreneurs aren't sure of the next step," said the council's business spokesman Cllr Kim Caddy.
"Perhaps they don't know how to set up a business, have registered a business but are struggling to start trading, or need access to finance.
"Get in touch with experts from our Your Business Your Growth team and we will help you start up, flourish and grow."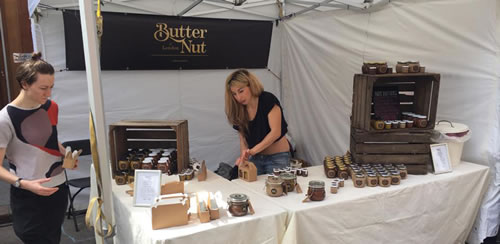 ButterNut started trading in London street markets following advice and help
Zoe Roberts set up her artisan nut butter company, ButterNut, with the help of Wandsworth business advisors.
"I signed up to Wandsworth Council's new initiative to support food business in the borough and so far the support they have offered has been excellent. I look forward to working closely with them to develop ButterNut over the coming months."
How to get in touch
September 2, 2016