Win A Signed Copy Of Jill McGivering's "The Last Kestrel"
---
Living in Putney, Jill has combined writing her first novel with working as a BBC correspondent

Jill McGivering is a senior BBC broadcaster, specialising in Asia. She's covered foreign news for the past 18 years for all the BBC's main radio and television news outlets. Her posts as a BBC Correspondent include Hong kong, South Asia and the US State Department.

Since being based in London, she's traveled on assignment worldwide but most often to Asia where she covers conflicts and pursues investigative journalism. Jill has an MA in Creative Writing and has also written short stories and her first novel, "The Last Kestrel" (Harper Collins) is set in Afghanistan.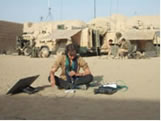 The story grew from a real incident experienced by the author in Afghanistan. She was embedded with British troops in Helmand Province, Afghanistan (Oct 2007) when they launched an anti-Taliban offensive. An Afghan family of 6, including three children, was accidentally killed when their home was bombed. The incident, and the unanswered questions surrounding it, were what inspired Jill to write The Last Kestrel.
What is it all about?
Two strong women. Two cultures. One unifying cause: survival.
Ellen Thomas, experienced war correspondent, returns to Afghanistan's dangerous Helmand Province on assignment, keen to find the murderer of her friend and translator, Jalil. In her search for justice in a land ravaged by death and destruction, she uncovers disturbing truths.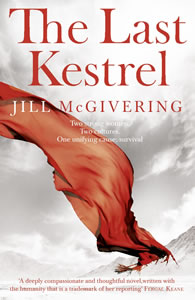 Hasina, forced by tradition into the role of wife and mother, lives in a village which is taken by British Forces. Her only son, Aref, is part of a network of underground fighters and she is determined to protect him, whatever the cost.

Ellen and Hasina are thrown together - one fighting for survival, the other searching for truth - with devastating consequences for them both.

Inspired by first-hand experiences of the author in Helmand Province, The Last Kestrel is a deeply moving and lyrical story of disparate lives - innocent and not-so-innocent - caught up in the horrors of war. It is a book which will resonate with fans of The Kite Runner and The Bookseller of Kabul.

"Jill McGivering has produced a deeply compassionate and thoughtful novel, written with the humanity that is a trademark of her reporting." FERGAL KEANE

July 31, 2010