Novice gardener Nina Tjarks 'blown away' to receive award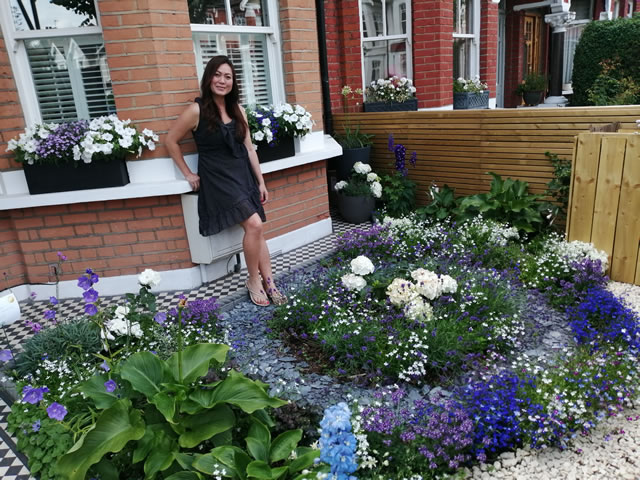 Nina Tjarks in her award winning front garden
Novice gardener Nina Tjarks has won the 2019 Southfields Grid Front Garden Awards. Nina, a Southfields Grid resident, said she was "blown away" to receive the award, having only started gardening a couple of years ago when the box hedging in front of her house was devastated by box tree caterpillars.
With help from her nanny, Angelika, daughter Mia, and neighbours Malcolm and Angela, she started to design and planting her new garden from scratch, and the results are award winning. 'If I can do it', Nina said, 'then anybody can!'.
The runners-up were Clare James and Nick Liszka, and Susan Long.
Amelia Obertelli-Moriarty, Committee member of Southfields Grid Residents' Association, and Convenor of the Front Gardens Awards says: "The Front Gardens Competition is an annual event, designed to acknowledge the creativity and hard work of Southfields Grid residents."
All Grid gardens are automatically entered into the competition. There is one overall winner, in addition to 200 Bronze, Silver and Gold awards.
Green the Grid (GTG )is an offshoot of Southfields Grid Residents' Association. Established in early 2018, its aim is to increase the number of planted front gardens and street planting, to encourage wildlife, improve air quality and help prevent flooding through natural drainage - thereby creating London's first Front Garden Friendly Neighbourhood.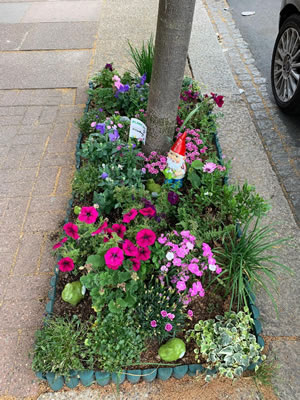 Front gardens street planting award and gnome
In 2018 and 2019 GTG was given funding from Wandsworth Council to supply plants for regular community planting days, where local residents 'adopt' a tree stump to plant flowers and herbs and receive practical gardening advice.
The judges also awarded prizes to the best street planted tree bases. Certificates can be seen mounted on the selected trees in each street.

July 22, 2019