Nigel Levine will be presenting awards in St. George's Park on Saturday
One of Britain's top athlete's will be at the Get Active Wandsworth Festival in St George's Park this Saturday (15 July).
Nigel Levine, 28, is a double Olympian, London 2012 semi-finalist, 2013 Double European Medalist, Commonwealth relay gold medalist and six times Indoor National Champion. He will be at the festival from 1.30pm to 3pm and will present awards to young borough athletes at 2.30pm.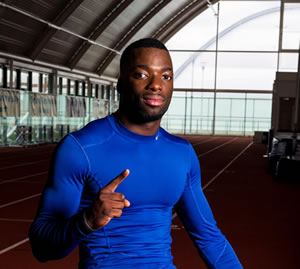 Nigel Levine
He's visiting the Get Active Wandsworth Festival on behalf on Team Personal Best, the official inspiration programme for the World Para Athletics Championships and the IAAF World Championships which will be hosted by London this summer.
Team Personal Best are taking part in 400 community sports events across the UK throughout July, August & September.
Nigel said: "I'm really looking forward to visiting the Get Active Wandsworth festival on Saturday as part of the Team Personal Best. I'm especially looking forward to seeing the pop-up track and checking out the sporting talent in Wandsworth. See you all Saturday."
The council's leisure spokesman Cllr Jonathan Cook said: "The Get Active Festival is always a popular day out, and is a great chance to find out what sports activities are available locally. I hope people will come along and get inspired to lead healthier and more active lives."
The Get Active Wandsworth Festival in King George's Park from 12pm-5pm includes activities, taster sessions, advice tents, food and drink and guest presenters to inspire residents to get active - all for free.
Find out more and download your event guide at www.enablelc.org/active

Active Wandsworth recently consulted on a new five year strategy for 2017-2022 to help tackle inactivity in the borough and is looking for residents who currently do not play or do not take part in any physical activity to have their say.
Active Wandsworth is the Community Sport and Physical Activity Network for Wandsworth and is part of the national structure for sport in England. Active Wandsworth brings together Wandsworth Council (including Public Health), Enable Leisure and Culture and other key partners such as schools, further and higher education, local sports clubs, and organisations to provide a strategic overview of physical activity and sport in the borough.
July 12, 2017