56% of students gained at least 3 A*-C - a rise of 43% on last year
Ark Putney Sixth Form students have achieved impressive A level results today, with a 67% rise in pupils getting 3 passes from A*-B from this year.

30% of students got the grades needed to get to some of the best universities in the country, up from 18% last year. And 56% of students gaining at least 3 A*-C, up from 43% last year.

The Sixth Form continues its impressive record of students progressing to various top institutions with 50% of students being offered places at 1994 or Russell Group universities.

Amongst these university offers include two students going to study at Oxford and Cambridge, the best ever result for the school. Maan Al-Yasiri has secured a place to study History and Politics at Oxford University, Harry Jenkins will be going to Cambridge to study History.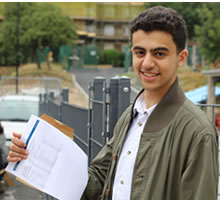 Maan, pictured left, got an A in English, an A in History and a B in Economics: "I was really excited when I realised I had got in to Oxford, I was shaking! I'll be sad to leave Ark Putney, I was looking round this morning thinking it will be weird not coming here anymore, but I'm so excited about going to Oxford, it makes me feel that it has all been worth it. I already have a reading list through so I will busy over the summer making sure I am prepared."
Originally from Iraq, Maan and his family fled to Syria when he was only six years old. He continued:
"After living in Syria, my family moved to the UK because the educational opportunities were better here – my mum wanted to study for her Masters and get me into a good school."

Maan was inspired to apply to Oxford after talking to former Ark Putney student Sara Koshnaw who is now studying medicine at Cambridge:
"I wanted to be a novelist and so I was planning to go straight into work, get a job and write in my free time. When I talked to Sara about her experiences, she told me that when she was growing up, she had never imagined that she'd go to Cambridge. That made me realise that Oxford could be an option for me, that it was possible.
"The teachers at Ark Putney have been really supportive all the way through my application. They set up mock interviews with Oxford and Cambridge alumni so I could practice answering the kind of questions I'd be asked."
After Oxford, Maan hopes to either join the Civil Service, train as a barrister or go into journalism. He says: "In the long-term, I would like to go back to Iraq and use the skills I've learned to help the country in whatever way I can."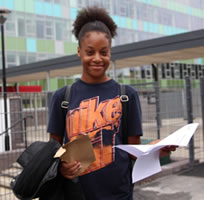 Hayley Belgrave (pictured right) is going to the University of Manchester to study History and International Politics after achieving an A* in History, an A in English Literature and and A in Sociology.
"My results are way better than I expected, when I first saw them I actually cried. My Mum was crying when I told her. I didn't think that A* was within my reach. All the hard work has paid off and it's definitely worth it, I can't believe it.
"The teachers have been so supportive – for example, Mr Davison, my English teacher, helped me write my university application, helped me get work experience in a law firm and stayed behind after school to mentor me on anything I was struggling with. I'm so, so grateful for their help.
"If it wasn't for them, I don't think my GCSEs would have been anywhere near as good as they were, I wouldn't have been able to go to a top university like Manchester and my chances of getting into Law would have been much, much lower.
"If I'd gone to a college or a bigger sixth form, I really don't think I would have been able to get the individual support I had at Ark Putney – and that's so vital to getting the grades you need."
"Statistically I wasn't meant to have survived…I want to create the same joy and smiles on other children's faces"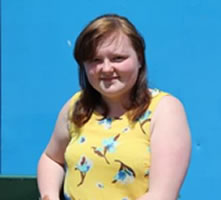 Many young people don't decide on a career until they've finished school, but for Kourtney Dowsing-Reynolds, a life-threatening illness made her set her sights on working as an animator for Disney. Kourtney, a sixth form student at Ark Putney Academy, is set to start a four-year degree in Animation at the University of Huddersfield, including a year's work placement in a top animation company from September. Kourtney got a Distinction in her ICT BTEC and a double merit in media studies.
Kourtney says: "When I was three, I was diagnosed with cancer septicemea, something you normally only see in 80-year-old men, and twice had meningitis. Statistically, I wasn't meant to have survived and the doctors gave me about a 30% chance of making it. Because the cancer was so unusual, the doctors didn't know what kind of chemotherapy to give me – whether it should be an adult's dose or a child's, so it was very touch-and-go.
"After the operation, my mum found me watching Flubber, the Disney movie with Robin Williams, and she saw what a big part it was in keeping me strong and helping me through my recovery. From then, I've always been a Disney child and have always aimed to work in animation. I want to help create the same joy and the same smiles on other children's faces that Flubber had brought me."
After completing her GCSEs at Ark Putney Academy, Kourtney started a BTEC in Animation at the school. Without the school's help, she says, her choices would have been limited: "If I'd gone to a different college or sixth form nearby, most of the courses would have had a very narrow focus, but Ark Putney has given me a really wide variety of options to pursue. I've made print publications and music videos as part of my course."
Kourtney received a Marshall Wace bursary from Ark. Each year, the Marshall Wace Bursary helps 40 talented Ark students headed for top universities, who might not otherwise be able to afford higher education, with expenses like accommodation and subsistence.
"The bursary is going to help so much – I've had to do a part-time job while at sixth form to support my studies, which has been really stressful. My parents have some disabilities and haven't been able to work, so I've worked to help keep the family afloat.
"Ark has been really helpful for my entire family – not just with my bursary. My brother was identified as dyslexic in primary school but asked his teachers not to tell my parents because he knew how worried it would make them. When he got to Ark Putney, they offered so much help and support to him to cope with his dyslexia."
Although excited about her new course, Kourtney says she will miss the close-knit community at Ark Putney: "One of the principles that the teachers follow here is that they try to know every student individually, which something you get at other schools and especially other sixth form colleges. At Ark Putney, you're not just another name or a number, you're an individual."


August 14, 2015