Free Online Breastfeeding Classes
---
Tooting MP Dr Rosena Allin-Khan encourages use to ease pressure on local NHS



A group of mums based in Harrow, launched Blossom Antenatal and they they came together to volunteer their time to offer breastfeeding workshops online through Zoom.
Their aim is to ease the burden on the NHS and support expectant families, as all NHS classes of this kind have been cancelled during the pandemic. As it stands, the NHS cannot do online classes due to GDPR and bureaucratic red-tape. Blossom Antenatal, who already have the backing and support of a number of NHS hospitals and NHS workers, have stepped in to offer a virtual helping hand. Normally, 30% of new mums in hospital ask for breastfeeding classes. 1200 mums have already booked into classes in just over a week.




An advocate of the initiative is Dr Rosena Allin-Khan, mother of two, MP for Tooting and currently running in the race for Deputy Leader of the Labour Party. She practices in St. George's Hospital in South West London in addition to her role as a Member of Parliament. She says, "Maternity services are overwhelmed at the moment and this valuable support is very badly needed. Breastfeeding provides essential immunity for babies, and with the current insecurity of formula supplies, this service from Blossom Antenatal has never been more vital."
Classes are filling up fast and there are plans to run them throughout the lockdown. The reach has been global with the group receiving calls and emails from mums in Australia asking for help.

The group have also had calls from qualified breastfeeding specialists across the UK willing to offer their services. Word has spread quickly through this community of volunteers.

The coaching session being offered online is live and fully interactive. It is limited to 20 participants to allow for questions. Blossom Antenatal was founded by Clare Castell , Anne Anderton, Siobhan Siddy, Caroline Nagle, Dr Anne Murphy and Olivia Vandyk - and a whole host of other volunteers who are working tirelessly to support our NHS and provide this much needed support.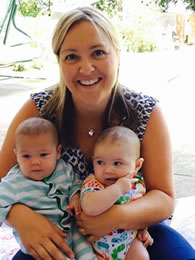 Clare Castell, pictured above, an NHS Infant Feeding Team/NCT trained teacher with over 15 years' experience, has set up online interactive live classes with a focus on breastfeeding. She said: "Breastfeeding, whilst completely natural is still a skill which needs to be explained to help its success. The UK has one of the lowest rates of breastfeeding and now women are frightened. They want to breastfeed and they need the knowledge and education before they go in to hospital because services are stretched once they arrive. All NHS classes are cancelled. One mum told us she cried when she found our classes. She is expecting twins in the next few weeks.

"It is not easy to obtain formula at the current time and this is worrying mums. We are calling on the government to secure the supply for mums and babies urgently."

Clare added: "We wanted to help give women reassurance combined with clear, practical advice and do our bit to help take some pressure off the NHS. We have an army of trained and experienced volunteers standing behind us and we are ready to step up and work to help reach all the mums who need us."

Click here to find our more about Blossom Antenatal and here to book a class.
April 3, 2020