Can You Give To The Coronavirus 'Thank You' Appeal?
---
St George's Hospital and Queen Mary's Hospital staff cover 3.5m residents



I'm writing to you as a trustee of the St. George's Hospital Charity.
The charity, its trustees, staff and our many volunteers, are doing everything we possibly can to support the hospitals in this difficult time. We have just launched a Coronavirus 'Thank You' Appeal both on our website and on social media and hope that you will donate.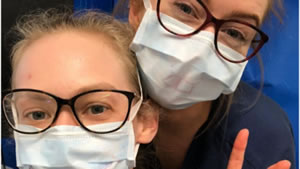 As I am sure you know, St George's Hospital and Queen Mary's Hospital are seen as the beating heart of our wonderful and diverse community here in South West London. Our hospitals serve a huge population of around 3.5million. Both hospitals are now at the centre of our community, tackling the rapidly growing challenge and crisis of coronavirus.
Right now, all our staff in both hospitals are under an unprecedented amount of pressure and are working around the clock to deal with the impact of COVID-19. They are, as I'm sure you know, pulling out all the stops to ensure they are providing the very best care to all who need them. The St George's Charity is determined to be there for all our staff - and for our most vulnerable patients.
As the St George's 'official' charity, we are working closely with the hospitals to keep up with the current situation, their needs and how we can help. The hospitals have now asked us to coordinate all offers of food, goods and help from the public.
We are currently working with the hospital catering teams, and the Trust's COVID response team (including students from the St George's Medical School) to provide staff with food and provisions, to provide accommodation for key staff, to buy equipment and supplies, and to fund the vital psychological and welfare initiatives that many staff will need over the coming weeks and months. Our aim is that all staff in both hospitals should be supported by this appeal, from doctors and nurses and all the clinical staff, through to the ward managers, cleaners, porters and the mortuary staff.

Many people in the community are asking us how they can help. Right now, the best way is through donations to our St George's Coronavirus Appeal. This will mean that we can continue to work closely with the hospitals and meet their needs as the situation changes.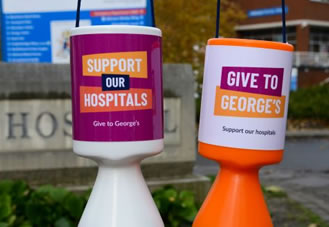 The link to our appeal for donations is www.justgiving.com/campaign/thankyouappeal. Our Appeal, which only launched last weekend, already stands at over £53k. This total is a huge testament to how we all want to support our NHS at the moment but we do need to raise much more to meet the rapidly growing need.

The appeal has already supported the purchase of additional PPE equipment, and taken delivery of 50 blood pressure monitors in the maternity department. You can find out more on their facebook page.

To contact the St George's Hospital Charity please email giving@stgeorges.nhs.uk - this email is being monitored 7 days a week and it helps us to coordinate things for the Hospital.


I do hope you will feel able to help.
Sarah Wilton
Trustee - St. George's Hospital Charity
March 30, 2020