Company which collects waste from four local boroughs invests £7m in new fleet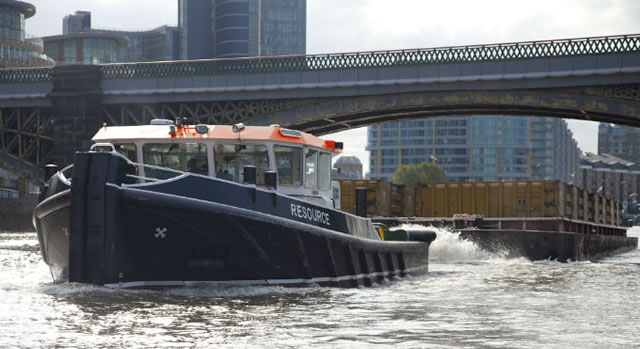 Barge removes waste that cannot be recycled from Smugglers Way
Household waste generated in Hammersmith & Fulham which cannot be recycled will continue to be transported along the River Thames in a new fleet of barges, saving London's roads from tens of thousands of heavy goods vehicle journeys a year.
Cory Environmental, the company that deals with all the waste produced by households in the four boroughs of Wandsworth, Lambeth, Hammersmith & Fulham and Kensington & Chelsea has announced it is to invest £7million in a new fleet of river barges.
According to Cory, their new barges will have a more efficient design than those currently used and will have improved safety features. Each barge will be able to carry 250 tonnes of waste – each one saving London's roads from the equivalent of 70 juggernaut journeys.
Overall Cory transports around 600,000 tonnes of refuse a year on the Thames, saving more than 100,000 heavy vehicle movements a year on the capital's already congested roads.
The four boroughs are members of the Western Riverside Waste Authority (WRWA) which has two sites in the borough – at Smuggler's Way near Wandsworth Bridge and also Cringle Dock close to Battersea Power Station.
All the waste and recycling collected in the four boroughs is brought to these two sites and while the recycling is automatically separated and processed at Smugglers Way, the non-recycleable waste is loaded onto barges and transported 20 miles downstream to an energy from waste plant in Erith that recycles the waste into electricity that powers 100,000 homes.
The residue from this process is recycled into aggregate used by the construction industry to build homes and roads.
Cory's chief operating officer Julian Walker said: "Cory has a long and proud history of operating on the Thames and this investment demonstrates our commitment to the capital's 'green highway'. The investment will allow us to maintain and expand our river-based operations and continue making the most of the River Thames in years to come."
June 14, 2019