Do You Know This Cyclist?
---
£2,000 reward offered by Crimestoppers to identify the man at the rail crossing

Independent charity Crimestoppers is offering a reward of up to £2,000* to identify a cyclist who risked his life and left a train driver suffering psychological trauma after jumping the barriers at a level crossing in North Sheen - just seconds before a train sped past.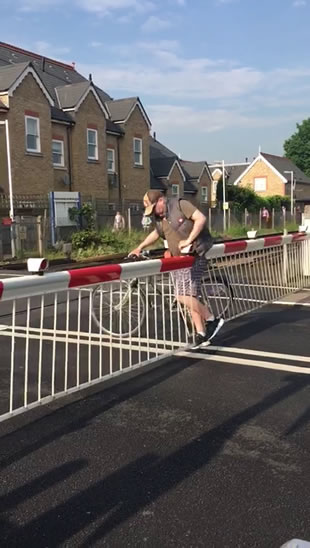 The man, who was described as being `aggressive', lifted his bike over before forcing his way between the barriers at North Sheen level crossing on Manor Road during the morning of Thursday 11 May 2017. His actions were witnessed by horrified commuters, schoolchildren and parents who pleaded with him to wait.
The cyclist was wearing a cap, a pair of shorts and a puffa jacket and was believed to be riding a mountain bike.
Dave Hunter, Crimestoppers' Head of Operations, said, "This man could have caused himself serious injury or even death. His actions were incredibly dangerous. Someone will know who he is and we hope they will see that there is no excuse for this behaviour. The barriers are there for a very good reason.
"As an independent charity, Crimestoppers offers a safe way for people to give information about crime. Anyone who knows who this man is should contact us in on 0800 555 111 or use our non-traceable secure online form. You will remain 100% anonymous. We won't ask for your personal details - you won't have to give a statement to police or appear in court. We just need to know this man's name."
If you have any information, please contact Crimestoppers anonymously on 0800 555 111 or through our non-traceable Anonymous Online Form at www.crimestoppers-uk.org



*Note: The reward is valid for three months and will only qualify if information is passed to Crimestoppers. Information passed directly to police will not qualify.
June 21, 2017