Rico Powell-Allan was jailed for attempting to rob PC World in New Malden
21year old Mr Powell-Allan was one of four men who have been jailed today, Friday 18 July, at Kingston Crown Court for attempting to rob PC World in New Malden.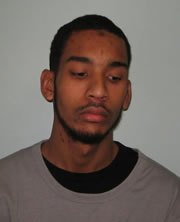 Rico Powell-Allan, pictured left, of Summerley Street SW18 was sentenced to six years for conspiracy to rob and six years for possession of a firearm with the sentences to run concurrently.
Hamza Dahir (25yrs), of Laverstoke Gardens SW15 was sentenced to five years for conspiracy to rob and five years for possession of a firearm with the sentenced to run concurrently.
David Tesfaalen (22 yrs), of Plough Lane SW19 was sentenced to four years for conspiracy to rob.
Liban Ali (25yrs), of Pennethorne House SW11 was sentenced to two years suspended for two years and a one year curfew for conspiracy to commit burglary.
On 27 December 2013, at approximately 06.30hrs, Dahir, Tesfaalen and Powell-Allan attended the PC World/Currys flagship store in Burlington Road, New Malden where, from a stolen car, they observed staff opening up the premises.
After identifying the store manager, the trio exited the car; Powell-Allan in possession of a firearm. Dahir and Powell-Allan managed to scale a wall adjacent to the shop and ran towards staff brandishing the firearm.
At this point armed officers, as part of a pre-planned operation, intercepted the group, arresting Dahir and Powell-Allan following a short foot chase. Tesfaalan was arrested as he attempted to scale the wall.
Officers recovered the loaded firearm seen to be thrown away by Powell-Allan as he ran from police.
Following inquiries, a fourth man, Ali, was arrested as he waited in a car in Roehampton to receive stolen goods from the group. He was also identified as being responsible for detailed reconnaissance at the premises on at least three occasions prior to the attempted robbery.
The group were charged on 27 December 2013 and subsequently pleaded guilty to their offences on 23 June 2014.
Detective Sergeant Ben Davies, formerly of Flying Squad, said:
"I am satisfied with today's result which has seen a dangerous organised group removed from circulation. I have no doubt that had they not been apprehended they would have gone on to commit further offences. The events of 27 December left staff members shocked and traumatised and I hope they are now able to achieve some sense of closure."

July 4, 2014