Part of forty addresses raided and twenty five arrests in South London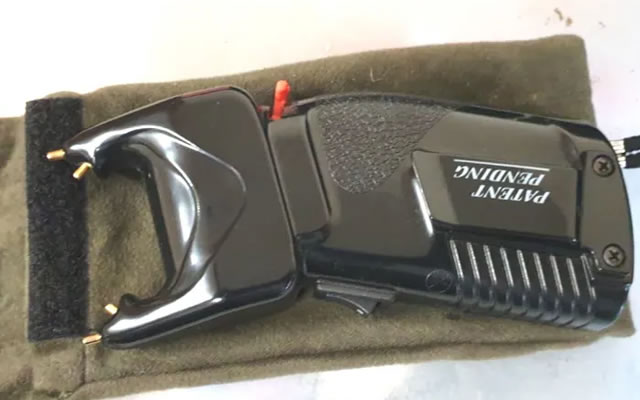 Stun gun seized

Twenty five people have been arrested during early morning warrants in South London targeting those believed to be involved in gang activity, drug supply and violence.
Warrants were executed at 40 addresses in Croydon, Wandsworth and Lewisham by officers from south London, and the Met's Violent Crime Taskforce Team.
The 25 suspects were arrested on suspicion of a range of offences including possession of firearms, possession of Class A drugs with intent to supply, and handling stolen goods. Warrants have also been executed at seven commercial premises along South Norwood High Street.
The operation forms part of the Met's wider ongoing crackdown on violence and drug supply in London.
All suspects have been taken to a south London police station where they remain in custody.
Officers have today seized around £50,000 in cash and a quantity of Class A and B drugs, and a stun gun. During the course of the investigation, a number of firearms were also recovered.



Gun seized
Detective Chief Inspector Dan O'Sullivan, from South Area Safeguarding Basic Command Unit: "This morning's operation is the culmination of an 18-month investigation by my officers. We have worked tirelessly to identify those believed to be involved in gang activity, supply of firearms, drug supply and violence across the south of London and I am pleased with the results of this activity.
"We will continue to work closely with our colleagues on borough and in other specialist units across the Met to identify and apprehend those intent on, or considering, committing acts of violence."
We are working tirelessly - day and night – to identify and pursue offenders, help bring perpetrators to justice, take weapons off the street, support victims, engage and reassure the public, and keep our communities safe; and we are making progress.
"Some significant areas of violence are down, we are seeing reductions in certain crime types including knife related injuries and homicide* but we know this is little comfort to the families and friends of those who have lost loved ones or whose lives have been devastated by violence in some way. We remain utterly committed to tackling and preventing violence.
Our approach is organisation-wide; with officers from local Neighbourhood Police Teams and the Violent Crime Taskforce to Forensics and our Data teams working together not only to detect, but also to prevent violent crime in both the short and long term. Tackling violent crime requires strong partnership working. Police often have a role in galvanising a response but it will take sustained and effective partnership working with a truly holistic, preventative approach at grass-roots levels to deal with the complex causes and to create tangible alternatives for our young people, helping them avoid the draw into gangs and violence.



Heroin seized
Communities have an absolutely vital role to play in tackling violent crime. We want to hear from anyone who has information about people who may carry knives, or who are involved in organised drug crime and maybe exploiting young people, putting them into dangerous and vulnerable situations. This information could save lives in the future. If you are not comfortable speaking to police, please contact the independent charity Crimestoppers. One hundred per cent anonymous and entirely independent from police, they do not ask for your name and cannot trace your call or IP address. Contact: 0800 555 111 or visit http://www.crimestoppers-uk.org/.
If you need help or information to support someone you suspect is involved in knife crime, or you want to assistance yourself, then you can visit www.knifefree.co.uk or www.london.gov.uk/content/london-needs-you-alive.
September 18, 2019