D-Day Heroes Remembered By Wandsworth
---
Mayor of Wandsworth laid a wreath to mark 75th anniversary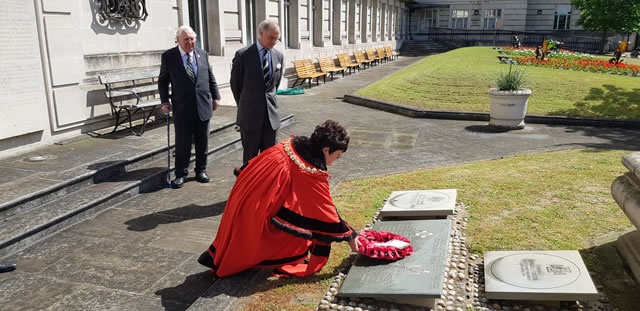 Cllr Jane Cooper lays wreath in Wandsworth
The Mayor of Wandsworth, Cllr Jane Cooper, laid a wreath at 11am this morning (June 6) on behalf of the people of Wandsworth to mark the 75th anniversary of the D-Day landings.

Cllr Cooper paid tribute to the men and women who took part in the operation, many of whom gave their lives. Her tribute on the wreath stated: "On behalf of the people of Wandsworth, in honour and commemoration of those who fought and those who fell in the struggle for freedom. On this 75th anniversary of D-Day we shall never forget how much we all owe to you."

She was joined at the ceremony by Col Ewen Cameron, Deputy Lieutenant for the London Borough of Wandsworth, Honorary Alderman Major Leslie McDonnell, president of the Putney branch of the Royal British Legion and Captain Wayne Grounsell of the Royal Marines.

Col Cameron wore the regimental tie of the 13/18 Royal Hussars, who as part of the D-Day operation launched amphibious tanks off the Normandy beaches which played a crucial part in the success of the landings.

Wandsworth is home to Army Reserve soldiers from the London Regiment based in Clapham Junction, C Company 5th Battalion The Royal Fusiliers in Balham, and the Royal Marines Reserve based in Southfields. The borough also hosts army, sea and air cadet squadrons.

June 6, 2019