Councillors back plans for environmental improvements along the Upper Richmond Road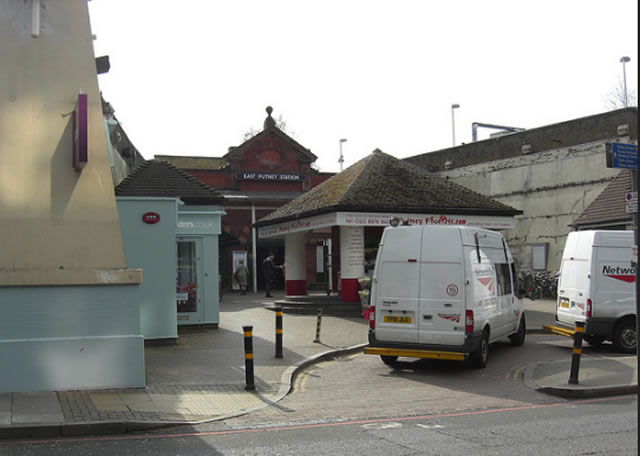 Approach to East Putney Station - Snappy Pete on Flickr

The council is to work with Transport for London on a project to enhance this part of Putney including improvements to the station forecourt, which could provide new opportunities for businesses to set up in the area.
The plans also include measures to upgrade pedestrian and cycling links on the route between the Upper Richmond Road and Putney Bridge Road via Woodlands Way, Bective Road and Bective Place. This route would get better paving and surfacing, improved crossing points and other road safety measures.
As well as smartening up the station forecourt and improving passenger flows into and out of the station, work will be carried out to improve footpaths under the two adjacent railway bridges, as well as cleaning up the walls which are damp, dirty and unattractive.
New high quality and attractive paving is also set to be installed along the Upper Richmond Road between Keswick and Oakhill Roads and the High Street.
Funding for these improvements would be raised from a variety of sources including TfL and via contributions from property companies that have redeveloped redundant office space to provide new mixed use buildings in this part of Putney.
Cabinet member for employment, skills and business development Cllr Kim Caddy said:
"This part of East Putney has seen great change in recent years with many smart new developments bringing new homes, shops and modern office space. Unfortunately the station forecourt and the area around the two bridges is tired and unattractive in comparison and does need a facelift.
"One possible idea for the area under the bridges could be a similar solution to one recently employed near Balham station where a really striking and attractive piece of artwork was fixed to the wall and has been a huge improvement to the streetscape.
"There is money available to fund some improvements here and so we will be working closely with TfL and the rail companies to draw up a masterplan for this part of East Putney."
October 5, 2016