The East Putney Councillors' Summer Bulletin
---
An update from your local ward Councillors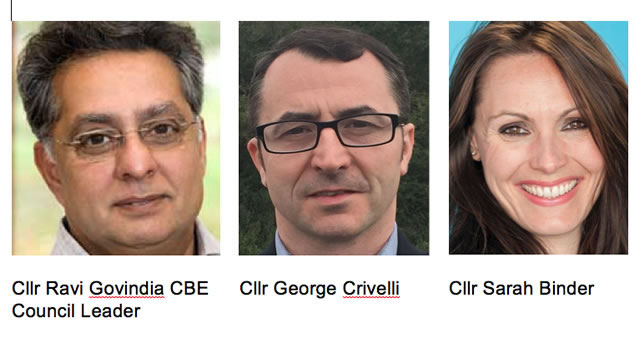 New homes on Kersfield Estate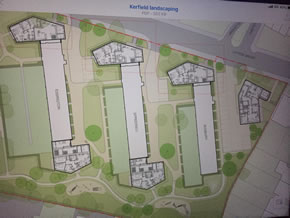 The Council's Planning Committee has approved a development to create 41 new homes on the Kersfield Estate in Lytton Grove.

Cllr George Crivelli said: "This will provide much-needed local homes, with 14 for affordable rent. It is part of our plan to build 1000 new homes on Council land over the next 5-8 years, delivering both homes for sale at market prices, and affordable homes that will be prioritised for Wandsworth residents and workers".

The proposal is for seven new buildings; two new stand-alone buildings and five attached to existing blocks.
George added: "There are other benefits as well as new housing; the development will make amenity areas across the estate more attractive by creating private gardens for communal use, and landscaping that includes a playground and woodland trail."
Plans to improve East Putney tube station


Pressure from your East Putney Councillors on Transport for London (TfL) and Tube bosses to upgrade and smarten East Putney tube station has begun to bear fruit. After new talks, TfL is drawing up detailed plans to spruce up the tube forecourt, and London Underground will carry out a feasibility study into providing lifts to the platforms.

Cllr Ravi Govindia said: "This is great news. And there's more - work is also now progressing on improving the damp, dirty areas under the railway bridges by the tube station, and putting in new paving along the Upper Richmond Road around Keswick and Oakhill Roads. Your Council can help to pay for all this from the levy we charge on new developers in the area, but we can't do it without TfL and London Undergound. It's great news that they are both now doing some serious work to bring our long-standing ambitions to life. We will continue to work closely with them."
Putney overground station – a second entrance inching closer?
The long-running Council campaign for a second entrance in Oxford Road to Putney overground station has also been given fresh impetus, with Network Rail agreeing to carry out a feasibility study into the proposals.

Councillors have long argued that a second entrance would ease overcrowding, shorten journeys for thousands of residents, cut the long walk to the High Street for many East Putney residents, and hugely improve the connection with East Putney tube. The Council also conducted a feasibility study in 2014 to see where it could be placed and what it might cost, and has offered to contribute from the levy on local developers.

Cllr Sarah Binder said: "Ravi lobbied the former Transport Secretary Chris Grayling on this issue at a meeting in Putney last October. The news that Network Rail will carry out its own detailed feasibility study is understood to be a direct result of that. We hope there may now be some long-awaited light at the end of this tunnel. Meanwhile I urge residents who want to see this happen to sign our online petition here."
Petition against traffic issues on Keswick Road


At the Council meeting in July, your East Putney Councillors submitted a petition on behalf of Keswick Road residents asking for traffic calming measures. Cllr George Crivelli said: "We are very grateful to the Keswick Road residents who organised this petition. They are concerned at the volume of traffic and speed of vehicles cutting through Keswick Road to the A3 at West Hill. 140 residents signed the petition asking for calming measures and a 'No Right Turn' onto the A3 with a camera, which they hope would deter people from using the road as a rat run. Residents also hope a camera could stop cars which – horrifyingly, despite the 'No Entry' sign – enter Keswick Road from West Hill."

George added: "Once the petition is recognised, Council officers will investigate if there is justification based on facts such as accident data and the speed and volume of traffic. We are hopeful that the Council will give serious consideration to implementing traffic calming measures that residents seek."
Petition for crossing on Putney Hill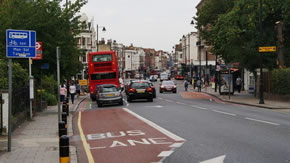 Your East Putney Councillors have also set up a petition for more pedestrian-friendly crossings and pedestrian safety measures on Putney Hill. Cllr Sarah Binder said: "Residents who need to cross Putney Hill will be aware of the challenges, especially if you get 'stuck' between the traffic on the islands near St Johns Avenue and Kersfield Road. Putney Hill is a red route controlled by Transport for London. If you find it difficult to cross, please sign up here!"
Estate House gym proposal
Ravi has spoken up for residents concerned about the planning application for a 24 hour 'Anytime Gym' in the former Carpetright store at 225-231 Upper Richmond Road.

Cllr Ravi Govindia said: "This application came to the Planning Committee in June, and I made representations on behalf of residents concerned that noise from gym activity could be seriously disruptive for people in the Estate House flats above the proposed gym. The Committee was rightly concerned by the potential for disruption to residents, and deferred the application pending more information about noise assessments. The applicant must now satisfy the Committee that sound-proofing and noise insulation will be rigorous enough to stop the impact of any noise from gym activity."
Council pledges to become inner London's greenest borough
At its meeting in July, the Council committed to playing its part in tackling climate change, and set a goal to be carbon neutral by 2030 and a zero-emission Council by 2050. Cllr Ravi Govindia said: "I am passionate about this. None of us can take climate change lightly; it threatens our way of life and future generations. Councils must join the fight to address the drivers of climate change, and must do our bit to stop the huge impacts on our environment and to begin reversing the damage."

Wandsworth already has a very good track record in protecting the local environment. There is more from Ravi about his strong commitment, what Wandsworth is doing and what it plans, in this short video on You Tube.
Heathrow appeal in court in October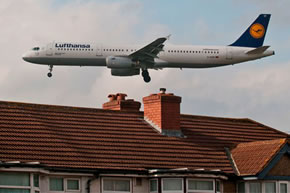 Heathrow expansion plans face a fresh legal challenge this autumn. The Court of Appeal has allowed a new hearing starting on 21 October, when five councils - Wandsworth, Hillingdon, Hammersmith and Fulham, Richmond upon Thames and Windsor and Maidenhead - will challenge the Transport Secretary's decision in favour of a third runway, arguing that the Government made legal errors leading up to its decision, and that it should therefore be quashed.

In agreeing to the hearing, the Rt Hon Lord Justice Lindblom said: "the importance of the issues raised in these proceedings is obvious and affords a proper basis for granting leave to appeal" and said: "the grounds of appeal are properly arguable."

The councils say a Heathrow third runway poses damage to the health of millions of Londoners with noise and air pollution, would mean demolishing thousands of homes, and would add greatly to road traffic. The Court will hear that the Transport Secretary failed to consult properly on noise, excluding people who may be significantly affected, and that the Government could not assess the noise impact as actual flight paths were not known. The councils will also say the Transport Secretary failed to consider the effect of expansion on local plans, and did not properly consider the significant adverse impact on protected habitats.

Cllr Ravi Govindia said: "We call on Heathrow to abandon its destructive plans. It is clear the extra runway can't be built without breaching environmental standards. The plan for huge new car parks alone suggests that Heathrow can't meet air pollution standards. This must be the beginning of the end for these ill-conceived plans. The consequences for the people affected by noise, air pollution and environmental impact are too damaging, particularly when carbon growth in the economy is being limited."
Have your own say on Heathrow
Ravi is also urging residents concerned about climate change to oppose Heathrow's latest expansion plans, unveiled in June. Heathrow bosses have launched a new round of public consultation on their latest plans for a third runway, but Ravi warns residents not to be fooled by the glossy consultation documents.

The consultation runs to 13 September. It outlines plans to dig a giant traffic tunnel on the M25 with the runway on top of it, to divert rivers, replace swathes of green-belt land with airport buildings and vast new car parks, and demolish hundreds of homes in nearby villages.
Ravi said: "These fanciful proposals, all at huge expense, are further evidence of misguided and blinkered thinking. Heathrow already inflicts unacceptable noise and illegal levels of air pollution on millions of Londoners. A third runway would generate hundreds of thousands of additional flights and millions more car journeys, seriously undermining efforts to tackle climate change and air pollution. The Government has failed miserably to explain how these proposals fit with its commitment to reduce carbon emissions. That such environmental vandalism should even be considered is why we are continuing our legal challenge to prevent the catastrophic impact of a third runway on our residents and the environment."

Residents can view the proposals and take part in the consultation at the consultation website.
Putney Bridge soon to be lit up at night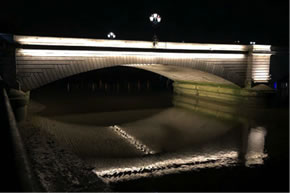 The work to illuminate the arches under Putney Bridge by night is set to be completed around the end of August. The first low energy eco-friendly LED floodlights were installed in July, and work has been cracking ahead to fit them under all the other arches of this historic Grade II Listed gateway to Putney.

Cllr George Crivelii said: "This is great news for Putney and meets our manifesto commitment to light up this magnificent gateway to our borough. Many residents and businesses asked the Council to do this, and while it has had technical challenges, these have been overcome. Illuminating the bridge will help to generate interest in Putney and will boost our night time economy, especially for businesses on the riverside."

The funds have come from the Council's levy on property developers for local infrastructure improvements.

Putney Bridge has also had a new road surface and pavements as part of repairs to protect it from water penetration, and its Victorian cast-iron lamps have been refurbished and fitted with modern LED lights. When the Putney Bridge work is complete, the Council also aims to install floodlights at Wandsworth Bridge.
Hammersmith Bridge
In stark contrast, Hammersmith Bridge remains closed, with its future uncertain. Cllr Ravi Govindia has spoken out strongly for Wandsworth residents, saying it is "simply unacceptable" that we are having to suffer from increased traffic and pollution.

Ravi said: "It's about time the people of Wandsworth had an answer from Hammersmith & Fulham Council, and TfL, on what is happening to Hammersmith Bridge, when will it be put right and when they can see an end to the nightmare of additional traffic plaguing our roads."
Ravi powerfully illustrates the problem and calls for action in this video on You Tube.
Car Free day – no charge for street parties
Wandsworth residents can hold street parties and neighbourhood get-togethers to promote sustainable transport for free on Sunday 22 September, after the Council announced it would join London Car Free Day.

This means street party organisers on 22 September won't have to pay the normal charges for a street closure, such as for drawing up and publishing legal notices. The Council will pay for these from funds to promote sustainable travel and air quality initiatives, keeping things free for residents.

Cllr Sarah Binder said: "We expect there will be various community events on London Car Free Day. With their streets free of traffic and closed to passing vehicles, children will be able to play safely in the road outside their homes, while parents can join in or meet new friends."
For a free street closure, residents and community groups must apply online by 5pm on Friday 23 August. Organisers should also know that not all Wandworth streets can be closed to traffic, especially those containing bus routes, busy junctions and commercial properties needing deliveries. The Council also has no authority to close roads that are one of Transport for London's 'red routes'.
Brewing back in Wandsworth Town


Wandsworth's 500-year-old beer brewing tradition is set to live on with the announcement in July that London's oldest independent brewer, Sambrook's, is moving to the Ram Quarter development in Wandsworth Town, on the site of the former Young's Brewery, where beer has been brewed since at least 1533. In 2006, Young's moved its brewing out of London altogether, but Sambrook's will now have a new headquarters in the restored Grade-II listed former brewery, and will open a tap room serving food and their hand-crafted brews and a shop selling beers from around the world. They expect to produce over a million pints of beer a year at their new home and aim to create a history of London brewing at a heritage centre delivered by the developer, Greenland.

Cllr George Crivelli said: "Wandsworth is famous for its brewing tradition. It's great that Sambrook's will now continue this. Their arrival at the Ram Quarter is a fitting addition to the whole Ram development, which is one of London's biggest regeneration projects. It has seen over £1bn of investment flowing through the area, with hundreds of new jobs and homes being created as well as major improvements to the local environment."
Bored kids? Check out local summer activities for young people
There are still places on Pick'n'Mix, Wandsworth's summer programme of adventurous and creative activities for young people aged 10-19, or up to 25 with a disability. Young people can come into a safe place, make new friends, do an activity or get involved in a project. Activities include drumming, yoga, 'Go Ape in the Park', canoeing, basketball, computer coding, fashion and more. Places can be booked here.

Also, children and young people who live or go to school in Wandsworth can enjoy challenging sport, leisure and cultural activities every weekday until 22 August at the Wandsworth Summer Camp held in Earlsfield, run by Parallel Youth Enterprise with help from the Met Police. To find out more or sign up your child to take part, visit the website or email Louise.Dann2@met.police.uk

August 14, 2019