The Boys In Blue Go Green
---
First electric powered police car trials in Wandsworth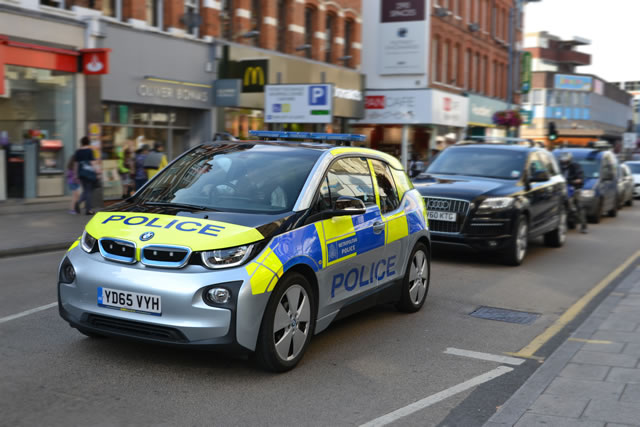 The vehicle in Putney High Street
Wandsworth's borough police force is now testing its first zero-emission electric powered response vehicle as part of six month trail.

The BMW i3 Range Extender is now being used on patrol and to respond to police incidents. Its performance is being evaluated by the Met to determine how these zero emission electric cars perform in a live operational environment.

Chief Superintendent Richard Smith, Wandsworth Borough Commander, said:
"We are delighted to have the opportunity to trial this environmentally friendly response vehicle in Wandsworth. Our aim is to ensure that Wandsworth is a safe place for anyone who lives, works or visits here; this vehicle allows us to do so whilst also playing our part in helping to improve air quality, which must be a good thing."



Cllr Cook and Inspector Kevan Martin with the vehicle
Jonathan Cook, deputy council leader, who inspected the car today in Putney, said:
"It's great to see Wandsworth borough police exploring the role electric vehicles can play in their operations. Air quality is a major issue right across London and embracing electric motoring has the potential to make a real difference. We hope the trial is a success."

In addition to the standard testing and evaluation tools, police officers will report back on their experience of using the vehicle during regular patrolling duties.

The MPS Driving School will also be testing the vehicle and providing expert advice on its potential use within the MPS fleet.

The BMW i3 Range Extender is being loaned to the MPS by BMW for the period of the pilot to test the future possibilities of using electric range extender response cars as part of the regular fleet.

The benefits of investing in low emission transport has been well documented on Putney High Street, where upgrades to the bus fleet has secured the biggest fall in Nitrogen Dioxide levels in London.

Find out more about electric vehicles at www.wandsworth.gov.uk/driveelectric

August 26, 2016