Western Riverside Waste Authority responsible for the recycling and treatment of domestic waste from Putney, Wandsworth, Hammersmith & Fulham



UK's leading 'junk funk' band made music from items of rubbish in Lyric Square
To mark the launch of the campaign, an event took place at Lyric Square, Hammersmith, on 15th December 2018, where the UK's leading 'junk funk' band who make music from items of rubbish, performed throughout the day. A team of advisors talked with over 400 residents on both Saturday and Sunday, encouraging them to reduce their waste, and those that committed to doing so were given a free reusable drinks bottle.

Over the past 15 years, the UK has gone from recycling hardly anything to today, where 43% of domestic waste gets recycled ranking us 10th in the world of countries that recycle municipal waste.
The recycle message has landed!
But recycling is only part of the solution towards true sustainability. Ahead of it lays reducing the amount of waste that's generated in the first place and this very action is driving a brand new campaign being rolled out across South West London; 'End of the Line for Waste' by the Western Riverside Waste Authority, the public body responsible for the recycling and treatment of waste from homes across Lambeth, Wandsworth, Hammersmith & Fulham and Kensington and Chelsea.
The End of the Line For Waste Campaign seeks to raise awareness of the amount of stuff we throw away and the impact this has on the environment, society and individuals.
For example, on average, each home in South West London throws away a third of the food it buys each year. Much of this is still in its original packaging and some even still in date! That's the equivalent of £840 per home, each year, being thrown away needlessly.
The problems caused by the use of single-use plastic has been brought into sharp focus over the past few years. Few people are unaware of the impact this is having on marine pollution but whilst a lot of attention is placed on far away places, as Stephen Bates; International Behaviour Change Expert for the Waste Sector, who developed the End of the Line for Waste Campaign explains, it's all too easy to ignore the impact personal actions have in London; "When people see their social media full of videos of marine life in exotic locations being harmed by plastic pollution they can be forgiven for thinking that their actions at home have little impact yet London is less than 50 miles from the coast. A discarded piece of plastic can easily and quickly end up in the Thames and taken out to sea adding to the debris already there. And the problems persist on our doorstep too with every 100 metres of UK beach containing over 700 items of plastic waste".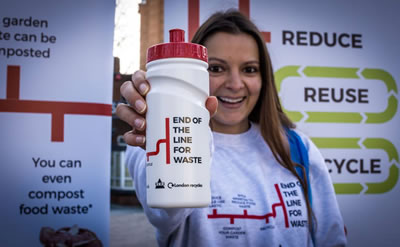 Anyone committed reducing waste were given a free reusable drinks bottle
The End of Line for Waste campaign seeks not only to raise awareness of the issues but also provide advice on the ways in which people can reduce their waste. Councillor James Husband, Chairman of Western Riverside Waste Authority said: "We hope that the campaign will prompt people to think differently about the waste they generate. Nobody would think of throwing away a third of the clothes they buy, almost as soon as they've purchased them so why do this with food? "
December 17, 2018