Disruption on Saturdays and Sundays on South West Trains to be reduced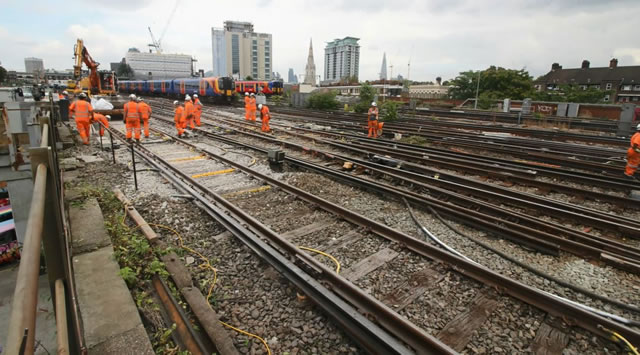 The regular weekend disruption on local South West Trains services looks set to end after Network Rail announced that its upgrades to the line that runs through Wandsworth, Putney and Barnes had been completed.
The work, completed on time as part of Network Rail's Railway Upgrade Plan, delivered a series of track and station upgrades between London Waterloo and Barnes station. These included the renewal of the tracks including between Wandsworth Town and Putney station and renewing the surface on platforms 2 and 3 at Wandsworth Town station.

Owen Johns, a spokesperson for Network Rail said, "This August bank holiday we delivered a number of upgrades between Waterloo and Barnes, including a £350,000 slice of a £5 million upgrade to the track at Waterloo. This investment is part of our Railway Upgrade Plan for a more reliable and robust rail network for the growing numbers of passengers using the railway.

"As our upgrades continue we may need to again close sections of the line, but we work closely with South West Trains to ensure that alternative travel options are available for passengers and that the closures are advertised at our stations and online well in advance, to allow passengers time to plan their journeys."

Lee McCarthy, programme manager at Network Rail said, "The work we have delivered this weekend as part of our Railway Upgrade Plan focused on one of the most heavily used sections of the railway in Britain.
"Our work to bring the Waterloo International Terminal back into use is well under way, and by 2018 capacity at the station will have increased by 30% so it's vital that we continue investing to provide a better railway for the growing number of passengers. I'd like to thank passengers for their patience while we carried out our upgrades this weekend."
We asked Network Rail whether this would mean a complete end to weekend engineering works on this stretch of the line but have yet to receive an answer.
Residents in Putney continue to wait for the completion to the station refurbishment. The question was asked back in September 2014. According to Stephen Luxford on the forum:
'Towards the end of July the Society (The Putney Society) were told by Network Rail that the current work, which is to produce an adequate power supply into the station to enable amongst other things the two retail outlets to operate, had missed yet another deadline (mid August). No new deadline was suggested so it could be some weeks/months yet.'
Timelapse video of work taking place on the line
September 2, 2016