Local MP Takes The Creditworthiness Assessment Bill To The Commons
---
Backing Big Issue founder John Bird's proposed legislation on credit rating amendments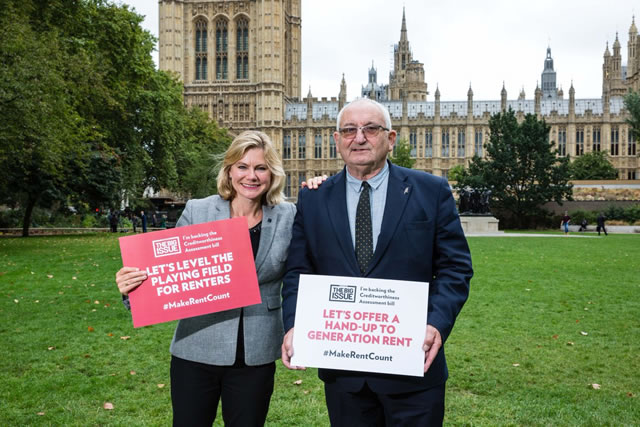 Justine Greening MP with John Bird - image: Louise Schiefer
Justine Greening has backed Friday's (October 26th) second reading of the Creditworthiness Assessment Bill, which aims to make it a requirement for credit providers to take into account rental and council tax payment history. She originally sponsored the proposed legislation and introduced it to the Commons for its first reading in September this year.
The bill has received cross-party backing from every party in the Commons with co-sponsors including Labour's John McDonnell, Liberal Democrat Leader Sir Vince Cable and his Green Party counterpart Caroline Lucas. The SNP's Kirsty Blackman, the DUP's Sammy Wilson, Liz Saville Roberts of Plaid Cymru and Labour's Jonathan Reynolds have also given their support to the bill.
Last week Ms Greening said in the House of Commons: "Currently, if someone pays a mortgage, their mortgage payments every month help them to build up their credit history, but if someone pays rent every month, that does not happen, which just is not fair. We can fix this situation for 15 million renters. The Creditworthiness Assessment Bill could help to give millions more renters throughout the country affordable credit, including mortgages, so that we can all get on in life. Will the Prime Minister take the opportunity of next week's Budget to look at whether the Government could support this Bill, which has cross-party support and has already passed through the Lords unamended?"

At the moment, if you own your home and pay a mortgage, a lender will take into account your mortgage payments to assess your credit score to see how reliable you are to lend to. The higher your score, the better deal you get on loans, whether mortgage payments, car loans or even mobile phone plans. But if you were renting the very same home, these payments aren't taken into account when determining your credit history. Britain currently has 14.8 million renters.

The Creditworthiness Assessment Bill would change the law so that credit providers such as banks have to consider rental and council tax payments as part of your credit history. It will help the millions of reliable renters across the country.





John Bird launched The Big Issue magazine in 1991 in response to the growing number of rough sleepers on the streets of London, by offering people the opportunity to earn a legitimate income through selling a magazine to the public.
October 27, 2018