Growhampton's Hive Café wins national eating out award
The Hive Café at the University of Roehampton has been announced as a winner of a national 2014 Soil Association Organic Award. The Café has been selected as the winner of the eating out category after a high profile month-long public vote.

The accolade comes less than six months after the café launched. It is run by Roehampton Students' Union's Growhampton team and is open to the public as well as students and staff.
The Hive Café is at the heart of the Growhampton sustainability initiative which engages people about food growing and where food comes from. Vegetables are grown according to organic principles by students on the University's 54 acre parkland campus and sold at The Hive's weekly farmers' market, meaning they have zero food miles attached to them.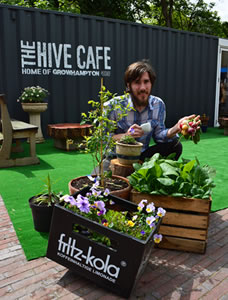 Some of this produce also forms the ingredients for sandwiches produced through a partnership with Roehampton based charity Regenerate. That means the 'field to fork' journey is under two miles in some cases. The sandwiches are a perfect partner with the café's triple certified (organic, Fairtrade, Rainforest Alliance) artisan coffee and ethical teas.
Siobhan Kelly, President of Roehampton Students' Union, (pictured below) said:
"Our Growhampton team has done brilliantly to literally build The Hive from unwanted shipping containers, set it up as a social enterprise and establish a regular customer base so quickly. We're so grateful to everyone who voted for us, especially people in Roehampton who have come on to campus and seen the good work we're doing."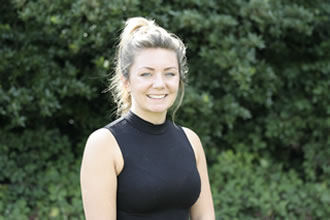 "The Students' Union and the University place a lot of emphasis on making our beautiful campus work for us and growing so much fresh produce on our site has really interested students. It's not the traditional start of term entertainment for first years but a real community has built up around the café and the Growhampton project and they have loved it."
David Dickinson, Director of Student Experience at the University said:
"Having a national award winner here is a great result, and we're delighted. The University has set itself a target of creating a campus which is a stimulating place to study, work and live, and which is environmentally efficient. This award voted on by our students, staff and the public proves we are succeeding."

October 9, 2014