Calling for local people to share their views on health and social care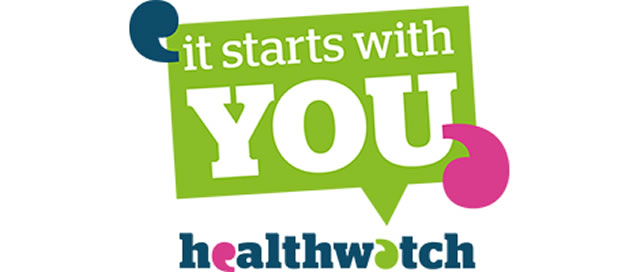 Healthwatch Wandsworth have spoken to over 1120 local residents in the last year to hear their stories and to find out where things aren't working and let doctors, nurses and care workers know when they are getting it right.

Part of a nationwide movement that has seen almost 300,000 come forward over the last year to help those running frontline health and care services find ways to improve. A new campaign #ItStartsWithYou designed to highlight the difference patient feedback can make launches on 3 July.

The Healthwatch network exists to make it easy for people to give feedback about health and care services, requiring no more than a short telephone call, email or even a Tweet.
Healthwatch Wandsworth has been out encouraging people to share their views and helping local NHS and social care services gather insight into people's experiences:
Having visited supported living accommodation, mental health wards and renal services at St. George's Hospital to find out how the services are working for the people using them and have used their findings to influence decision makers to improve services.
To help you find out more about how they have used the voice of local people to influence local health services we have just released our annual report which is available on their website at www.healthwatchwandsworth.co.uk.

Reports from across the Healthwatch network suggest that the value of listening to patient feedback is starting to gain real traction within the NHS with two thirds of local Healthwatch reporting that healthcare providers are now actively seeking out information from them about how patients are experiencing care.*

In recognition of all those who have shared their feedback, Healthwatch England is launching a new campaign, entitled #ItStartsWithYou, to highlight the difference people can make by sharing their experiences and to encourage more people to come forward.

A week of celebration will culminate in the Healthwatch Network Annual Conference where hundreds of volunteers and leaders from local Healthwatch will be sharing ideas about how to further boost public engagement in improving health and social care.

Share your views with Healthwatch and help make change happen, leave feedback on their short survey www.surveymonkey.co.uk/r/iswy, call them on 020 8516 7767, email them on enquiries@healthwatchwandsworth.co.uk or tweet @HWWands.
Imelda Redmond, National Director of Healthwatch England, said, "Giving doctors and nurses or care home staff a box of chocolates to say thank you is a lovely gesture but sharing feedback about the experience with those in charge is far more powerful. Not only does it help to boost the morale of under pressure staff but it can help the whole health and care sector understand what it is getting right and where things need to improve.
"Healthwatch makes it easy for people to share their experiences, both good and bad, and ensures that from individual doctors' surgeries to the corridors of central government, those in charge of planning and delivering services hear what people have to say.
"It's heartening to see a growing culture of people willing to share their story and incredibly important that the NHS is also increasingly keen to find out what people are feeding back. But to unleash the full potential we need people to keep sharing their experiences with us, so I urge everyone to speak up and help us make the changes we all want to see."
* According to the annual Healthwatch network data return, conducted in May 2017, 94 local Healthwatch reported that their local NHS providers have actively sought intelligence and feedback from them during the last 12 month. This is based on analysis of the 140 local Healthwatch that answered this question.
July 4, 2017