'Biggest Ever' Rally against Heathrow Third Runway
---
Mayor of London headlines massive rally in Parliament Square
The Mayor of London, Boris Johnson, will headline a mass rally against a third runway at Heathrow to be held on 10th October in Parliament Square, opposite the Houses of Parliament. Other speakers will include MPs John McDonnell and Zac Goldsmith, Green Party mayoral candidate Sian Berry and the chief executives of Greenpeace and Friends of the Earth.
The rally, which is expected to attract thousands of people, will take place just weeks before David Cameron is expected to make an announcement on a new runway for London and the South East. At present the Cabinet is looking at the recommendation of the Airports Commission that the runway should be built at Heathrow. However, over recent months, the owners of Gatwick have continued to make the case for a second runway at their airport.
John Stewart, chair of HACAN, the campaign group which is one of the main organizers of the rally, said, "We expect this to be the biggest ever rally against the third runway. Thousands are expected to send a clear message to the Prime Minister that they will fight any decision to give the green light to a new runway at Heathrow."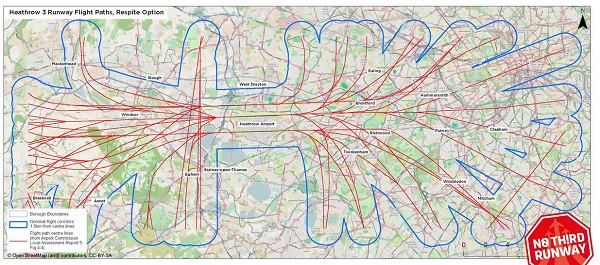 HEATHROW EXPANSION PROTEST
Parliament Square, London.
10-12.30pm, speakers start at 11am
10th October 2015

For more info www.no3rdrunway.co.uk .


September 29, 2015