Thousands Flocked To Anti-Third Runway Rally
---
Chanting David Cameron's pledge 'No ifs. No buts. No Third Runway'
Thousands of people flocked to Parliament Square this morning to protest against a third runway at Heathrow. The crowd repeatedly chanted 'No ifs. No buts. No Third Runway', the pledge David Cameron made before the 2010 General Election.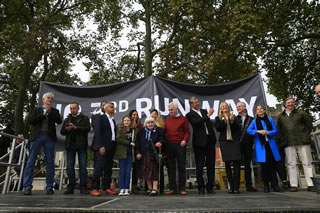 Left to right: John Sauven, Director of Greenpeace; Andy Slaughter MP; Sadiq Khan MP; Adam Afryie MP; local resident Mrs Taylor and her granddaughter; Gita Parihar, Friends of the Earth; Caroline Pidgeon, Liberal Democrat Mayoral candidate; John McDonnell MP; Zac Goldsmith MP; Sian Berry, Green Party Mayoral candidate; Daniel Moylan, aviation adviser to Boris Johnson; Tania Mathias MP; Lord True, leader of Richmond Council

All five of the mayoral candidates from the main political parties spoke out strongly against a new runway at Heathrow. They were joined by MPs, councillors and leading figures from the environmental movement (2) But for many of the crowd the star speaker was 84 year old Mrs Taylor who has lived in the Heathrow villages all her life and whose home is now threatened by a third runway (3).
John Stewart, chair of HACAN, one of the organizers of the rally, said, "The message to David Cameron is clear. People are politicians are united in the opposition to a new runway at Heathrow"


For more info www.no3rdrunway.co.uk .


October 11, 2015