Government may struggle to gain sufficient support to include project in Queen's Speech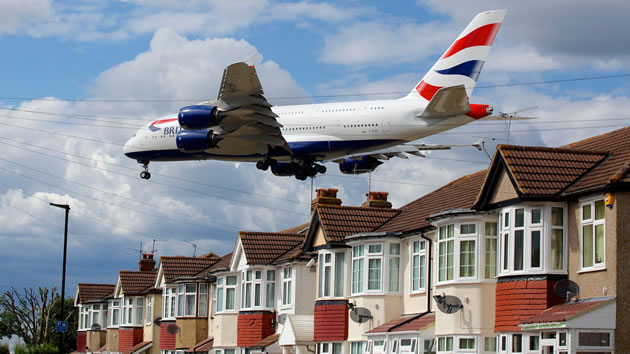 Plane landing at Heathrow. Picture: Ian Wylie
Local groups opposing the Third Runway believe that the result of the General Election may present an opportunity to prevent the Government moving forward with the project.
Although the Democratic Unionist Party who are supporting Theresa May's minority administration are believed to in favour of the plan, only a handful of her party's MPs would need to rebel to make it difficult to pass without support from elsewhere.
The Commons will get to vote on the Queens Speech at the end of the month. This usually outlines the Government's planned legislative programme for the year. Parliament will reopen on 19 June and MPs will have the opportunity to consider the contents of the speech before voting on it. A failure for the speech to pass on 27 June would effectively be a vote of no confidence in Theresa May's leadership and would force her resignation.
Campaign group HACAN, has claimed that over half of London's MPs are likely to oppose a 3rd runway at Heathrow. Research by the group, which opposes expansion of the airport, found that 31 of the capital's 73 MPs are known opponents.
HACAN Chair John Stewart said, "Once the views of all London's MPs are known, it is highly likely that a majority will be opposed to Heathrow expansion. Of themselves they may not stop it but they could act as a very awkward bloc to a new runway ever seeing the light of day, particularly given the fact that the new Government doesn't have a majority of seats in Parliament."
Rob Barnstone, Campaign Coordinator for Stop Heathrow Expansion, the group representing residents opposed to Heathrow, said: "Theresa May's U-turn on Heathrow expansion last October marked the beginning of her dramatic series of U-turns which exposes her as anything but a conquering hero.
"Theresa May's election gamble has failed which results in less, not more certainty on many, many issues in British politics, including on Heathrow expansion, as well as an increased number of MPs who are opposed to the project being elected in London.
"The Government were relying on a large parliamentary majority – including many new and loyal backbenchers, to push through a third runway. Now that Theresa May's gamble has left her in an unstable position the future of the project looks much less certain and potentially in jeopardy."
A Government consultation on a new runway closed shortly before the election. A parliamentary vote on Heathrow expansion, as part of an Airports National Policy Statement, was expected in winter 2017/18, according to the Government's previous timetable


June 11, 2017