Dismisses Hounslow Council's concerns about expansion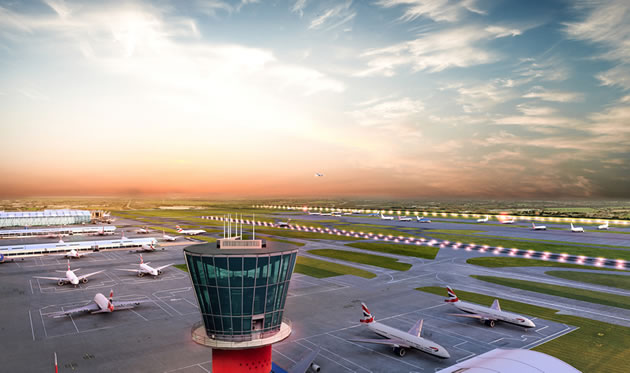 CGI image of how extended airport might look
Heathrow Airport has responded to Hounslow Council's submission to its consultations by insisting that bigger is better for the airport and dismissing concerns about noise, air quality and transport access.
The Council has submitted its feedback to Heathrow Airport's two consultations regarding the proposal for a new Northwest Runway at Heathrow; the first on the detail of the expansion on site and the second on changes to airspace management.
They have continued to support a 'better not bigger' policy saying that while they want the airport to be successful as it plays a vital role in the success of the borough they are opposed to a bigger Heathrow, either by additional flights, addition of a third runway or a relaxation on runway operations and night flights.
A Heathrow spokesperson said, "Heathrow's expansion plans are the result of extensive consultation and a firm belief that making the airport bigger should also be a catalyst making it a better neighbour for our local communities."
The Council would like to see a complete ban on night flights across an eight-hour period between 11pm and 7am. At this stage Heathrow is only willing to accept a 6.5 hour ban on scheduled night flights but they say they are happy to consult further with the local community how this would operate.
Hounslow have called into question the credibility of the surface access strategy put forward by Heathrow and in particular to its 'no more traffic pledge', given that no additional public transport is proposed to achieve this. They say this raises important questions about whether air quality can be improved to meet legal limits if expansion happens. The council say they are also extremely disappointed that its proposal for a link to the South Western Railway network from Feltham station, including the addition of a new station at Bedfont is not alluded to in any way in the proposals.
A Heathrow spokesperson said, "New public transport infrastructure such as Crossrail, HS2, Western Rail Access, Southern Rail Access and upgrades to the Piccadilly Line have the capacity to treble Heathrow's rail capacity and help us to meet our target of 50% of airport passenger journeys made by public and sustainable transport by 2030. Our analysis and that of the independent Airports Commission demonstrates that this is achievable and our strategy is resilient and does not rely on all of these schemes coming forward."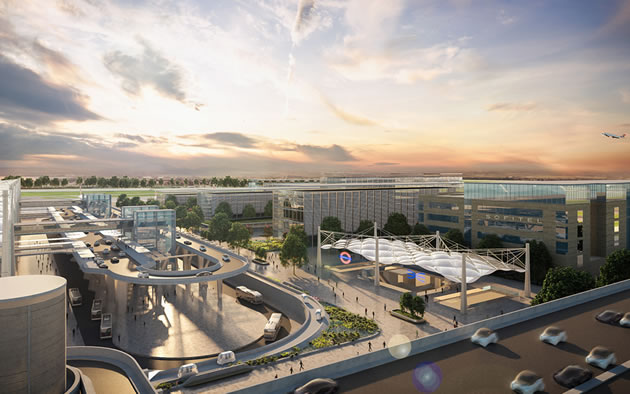 Possible design for expanded terminal

In their submission the Council said that concerted efforts must be made to minimise the direct negative effects of expansion such as noise, poor air quality, congestion of the transport network and loss of green space and biodiversity. They asked for a 'quality of life' fund to be established to fund measures to reduce the impact of these negative effects or otherwise compensate local people for a range of negative aspects of living close by. Such a fund could finance a range of measures such as investment in local infrastructure, greenspace and biodiversity enhancement and support for training and apprenticeships.
Heathrow have responded by saying, "The Government and Airports Commission have been clear that expansion should only be allowed on the basis of a world-class compensation package – that's why we've committed to a £2.6bn compensation package for local communities which includes £700m to insulate local homes to reduce noise. Heathrow's property compensation offer is well above other infrastructure projects that the Government is pursuing – including HS2."
Councillor Amrit Mann, Deputy Leader of the Council and Lead Member for Environment said, "As an international Hub of huge strategic importance to the UK economy and as our largest local employer, we want Heathrow to be successful. However, this aspiration will never be at the cost of what is best for our local communities. We have raised several issues in our response to the airport's public consultations and we are committed to working with Heathrow to address these issues before the proposals can go any further."
The consultations follow the announcement in July 2015 by the Airports Commission that they have concluded that the proposal for a new Northwest Runway at Heathrow presents the best case for delivering additional capacity in the South East of England. This was followed by the publication of the Government's draft Airport National Policy Statement (NPS) outlining its policy, details of the preferred location and the considerations that would be relevant to a future planning application for that scheme. In addition to public consultation during the last quarter of 2017, parliamentary scrutiny of the draft NPS is ongoing. If the Government decides to proceed, a vote in the House of Commons is expected in the next few months, to formally approve the Government adopting the NPS.
Heathrow Airport's consultations close on the 28 March after a 10 week duration.

March 11, 2018