On Line Resources To Keep Kids Reading
---
Local charity Learn to Love to Read provides support and activities virtually



Can you help children have a cosy bedtime with a bedtime story kits
In normal circumstances, Learn to Love to Read would be running toddler classes to help children be ready to read when they start school, running parent training to encourage and equip parents to support their children's reading at home, and sending in teams of trained volunteers to support primary age children who need a bit of extra help.

They are unable to run their usual work while schools are closed. However the charity is currently providing support and activities virtually in various creative ways. Please check their social media, Facebook, Twitter and Instagram, or visit their website for some amazing new stories to enjoy with your children at home and their recommendations of the best resources for home learning - www.learn2love2read.org.uk/pages/61-resources.

They have a lovely 'Reading to the Rescue' story called Three Other Bears and the start of a five-part Ten Word Tale - Mr Wombat's Wonder Shop - inspired by a random series of words chosen by a local family. Older children can read them and younger ones will enjoy hearing them - spot the words and enjoy the story!
Learn2Love2Read sadly know that theirr work will be even more vital once schools reopen. There is no doubt that children in economically disadvantaged families will be receiving less input at home and therefore risk falling further behind during school closures. As this article in The Guardian says: 'School is a leveller. When they are there, pupils share the same spaces, lessons, menus and teachers. At home, children of well-off parents invariably live in bigger houses, are more likely to have their own bedrooms, two parents rather than one to support them, and better access to technology as well as books and other learning resources, and food.'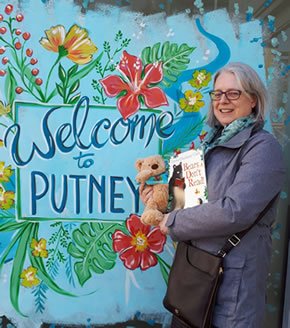 Founder Teresa Harris and friend brings books to SW15
Charity founder, Teresa Harris said: "That is all so upsetting to hear but especially those last two words ... 'and food' ... imagine how hard it is to learn and concentrate if you are feeling hungry. And we need to add to that the stress and anxiety caused by the huge change in routine for these vulnerable children. So building regular reading routines and encouraging a love of reading will be even more important once schools reopen as we try to help children catch up with the learning that has been unavoidably missed.
She continued: "We would be hugely grateful for your support to help us make that happen. We have a crowdfunding campaign running with Aviva just for the next couple of weeks - we are less than £200 from our target of raising £1,000 to set up bedtime story kits for children who rarely or never have a bedtime story at home. If we don't meet the target we don't get any of the money already pledged. Our kits will include a couple of enticing books, a hot chocolate and a teddy. We hope they will encourage families to start a new story sharing routine for their children. If you would like to donate you can do so here www.avivacommunityfund.co.uk/bedtime-story-kits-for-young-readers".
April 6, 2020