Local Heroes Win Awards
---
The Mayor pays tribute to Wandsworth's "unsung heroes"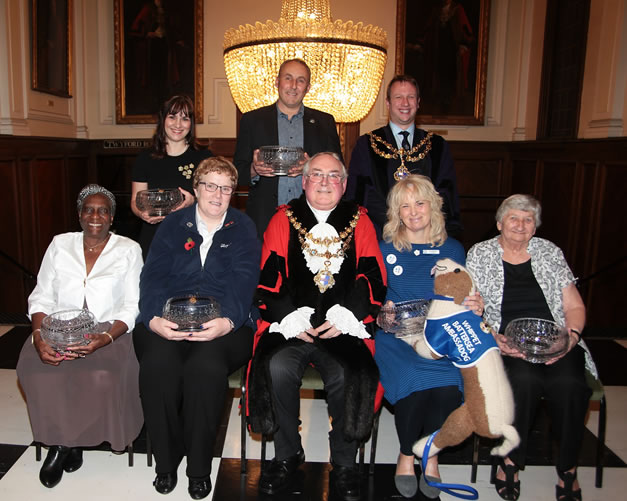 Wandsworth Local Heroes 2017
The Mayor of Wandsworth has hosted the annual Civic Awards ceremony to honour residents who aspire to help others and give their time to support local charities and strengthen local neighbourhoods.

The Mayor, Cllr Leslie McDonnell, said, "These awards are about the unsung heroes who are vital to this borough but in many cases get no formal recognition for their efforts. It's been a privilege to meet them and shine the light on the work these wonderful and selfless people do."



Local heroes around the borough included...

Geoff Simmons who runs the Summerstown 182 project to identify and commemorate local people who gave their lives in the first world war, including Britain's youngest soldier Sydney Lewis who joined up at 12. He has created maps and organised history walks and events to keep their memory alive, and teaches local schoolchildren about them. After the ceremony he said, "I'm very proud of this award as it's a real acknowledgement of what we've been doing trying to interest more people in the extraordinary history of Wandsworth and make sure everyone in the community can relate to it and feel involved. 'Being given this award alongside the inspirational people who have been doing good works in Wandsworth for many years, even decades, makes our project feel doubly honoured."

Chris McLean was a volunteer foster carer at Battesea Dogs' Home in 2010 and since then has taken on voluntary fundraising and community engagement roles. She carries out home visits for potential foster carers and over the last two year as helped raised nearly £10,000 and bring in many new volunteers. Community engagement officer Laura Sullivan says, "Everyone that Chris has worked with has gone away from a session having learnt something new. She's so passionate about our community engagement work and really believes in helping to make a difference."

Senia Dedic was nominated for her work on the Women of Wandsworth Intergenerational Project which links children who do not have grandparents in the UK with older people in London who do not have grandchildren. Her nominator said, "Through Senia's ardent leadership, this project broke the barriers between generations and helped lonely and isolated elderly residents to be a part of our community."

Dee Creed has been a volunteer at Wandsworth Salvation Army for more than 10 years and works tirelessly for them, despite ill health. She runs a lunch club and is an active member of the homeless drop-in volunteer team. One homeless person said of her, "She never gives up on me. I was at rock bottom and she still believed in me. She always cheerleads for us when everyone else in Wandsworth thinks we are dirt."

Edna Chandler Known as Akela to generations of Wandsworth children, Edna has been involved with the 5th Putney Scout Group for more than 40 years. One of her nominees said of her, "I don't know anyone else who can silence a group of around 20 boys and girls under 11 by holding her hand in the air as a signal. Edna is selfless, dedicated and much loved by the scouting community."

Nathalie Gibson-Wilson works tirelessly in the community, including as project manager at Tooting Graveney Day Care centre for 23 years, and is a trustee of four Wandsworth organisations, Age UK Wandsworth, Lifetimes, the Older People's Forum and Wandsworth Community Empowerment Network. Fellow Lifetimes trustee Michael Nayagam said, "The nature of her compassion, ability to understand the pains and suffering of people around her and her proactive attitude in helping those in need have made her a remarkable woman who is valued by several organisations."

Award recipients were nominated by local residents, businesses, voluntary and community organisations or councillors.
Find out about previous winners and how to nominate for the 2018 awards at wandsworth.gov.uk/civicawards.

November 22, 2017