Isla Russell has campaigned for mental health awareness in the borough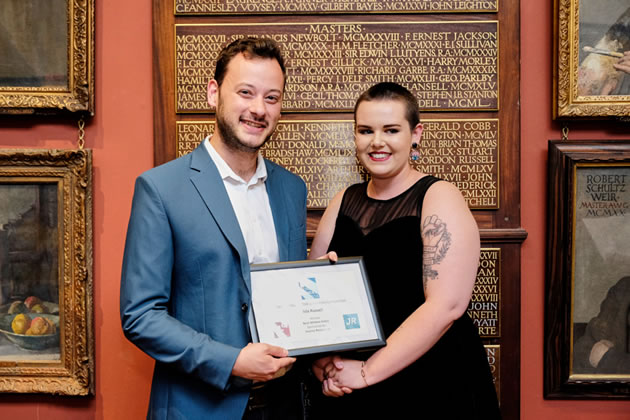 Isla Russell receives her reward from Ed Gove of Journo Resources
A woman from Wandsworth has been announces as a winner in the London Voices Journalism Competition Award winner
Isla Russell, a long-time campaigner for mental health awareness was one of twelve aspiring journalists to scoop awards and certificates in the second annual London Voices 2018 competition at anevent at the Art Workers Guild in Bloomsbury on Tuesday 10 July.
Isla won the Best Written Entry Award for her article Big City, big dreams, big mental health problems. Isla's interest in feature writing and journalism began when she was just 13, as she loved looking through magazine features and talking to people about their stories. During her two years studying for a BA in Journalism at London South Bank University, she has learned a lot about other types of journalism (and is particularly interested in investigative journalism), but her passion remains in the longer forms of story writing, which she says, "gives you the chance to find out the personality behind the story and the people".
Isla has run her own blogs since the age of 13, including her most recent one entitled 'All the stuff in between' which she has been writing for a year. She has also interned at Pink News where she had over 25 articles published, and has contributed articles to Campus Network, Campus Society and The Tab, a student-based national publication. She loves the process of coming up with ideas for stories, doing the research, finding contacts, interviewing and finally seeing it all come together as a written article.
The inspiration for her entry about mental health stems from personal experience and from those around her. She has been involved in raising awareness about mental health issues for some time, including shaving her hair off to raise money for the mental health charity Mind last year. She says she wanted to explore how women are coping in the media with their mental health and help encourage people to step outside the taboo and start discussing their own experiences.
Judges said, "I love this! It is a really well-written and well-researched piece which looks at an important issue in our capital."
The competition aims to promote emerging journalism talent across the capital, giving individuals the opportunity to tackle both local and national issues. Londoners over the age of 14 across 21 boroughs sent in written articles, videos, audio files and multimedia entries which challenged the ways people think about their communities and discussed issues ranging from food markets to child obesity, from mental health to non-league football. The competition was open to anyone who lives, works or studies in London, and received entries from schools, FE Colleges, Universities and individuals. Around half of the entries were from people with no previous experience of journalism.
The competition was sponsored by London Learning Consortium, Journo Resources, London South Bank University, Newsweek Media Group, Panda Radio, The Media Society, Update News and ynuk.tv.
The event was introduced by Alex Hudson, Deputy Editor of Metro UK who spoke about the importance of getting new young voices into the media industry and the range of entries generated by the competition. There was also a speech from 2017 competition winner Louisa Naks who shared her progress and achievements since winning the competition last year and encouraged all this year's entrants to persevere in their journalistic ambitions.
The competition will be running again next year. Any individuals or organisations interested in becoming involved or who would like to find out about sponsoring the competition are asked to contact londonvoices@londonlc.org.uk.
All the winning entries to the competition can be seen on the London Voices competition website .

July 18, 2018