Met Police Launches Anti-Terrorism Tactic In Wandsworth
---
The aim of Project Servator teams is to disrupt potential terrorist activity in the borough



image © Met Police
Teams of specialist police officers will be deployed to disrupt potential terrorist activity and crime in Wandsworth (and Lambeth), as part of a tactic being launched in the boroughs today (28 November).

The tactic, known as Project Servator, is not in response to a specific threat and will be rolled out in London's other boroughs in coming months as part of the Met's continuing work to keep London safe by collaborating with its partners and the communities it serves.

The approach uses both highly visible and covert police officers in busy areas and is based on extensive research into the psychology of criminals and what undermines their activities.
Uniformed police patrols will be joined by plain clothes officers who have been trained to spot tell-tale signs that a person may be carrying out hostile reconnaissance or engaging in other criminal activity.

They will sometimes be supported by specialist teams including the Dogs Unit, Territorial Support Group and the Marine Police Unit, helping create a difficult environment for terrorists and criminals to operate in.

Part of the officers' job will be to encourage people living in, working in or visiting the boroughs to be extra eyes and ears, reporting any suspicious behaviour to help make it even harder for terrorists and other criminals to succeed.

Anyone who does see something suspicious should tell a police officer, call 101 or if it is an emergency, call 999.

Project Servator was developed, tested and refined over a five-year period by experts at the Centre for Protection of National Infrastructure (CPNI) and is already used by a number of forces including City of London Police and British Transport Police to disrupt those planning to carry out crimes from shoplifting to terrorist attack planning.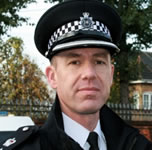 Borough commander for Wandsworth, Chief Superintendent Richard Smith, (pictured left) said: "Wandsworth is a vibrant borough with some of the busiest transport hubs in the country and tens of thousands of commuters passing through daily. Defeating terrorism and criminality is a joint effort and that's why I am asking everyone who lives in or visits Wandsworth to get involved in keeping our borough safe. If you see something suspicious, report it. If you see police officers, take a moment to talk with them and find out how you can play you part."

Deputy Mayor for Policing and Crime, Sophie Linden, said: "Keeping Londoners safe is the Mayor's top priority and we know our emergency services do a great job every single day protecting our city. However we cannot be complacent, which is why it is good to see the Met rolling out Project Servator to help deter and detect crime in our city's busiest areas. This tactic was endorsed by Lord Harris in his review of London's preparedness for a terror attack, commissioned by the Mayor. I urge Londoners to remain alert and report anything suspicious to the police as they work to keep us all safe."

November 30, 2016