MIPIM Trip 'On The House'-ing Industry
---
Wandsworth Leader in Cannes promoting 'The Brighter Borough'
MIPIM is 'the world's property market' which "gathers the most influential international property players from all sectors for 4 days of networking, learning and transaction". Included in the event this year was Cllr Ravi Govindia the Leader of Wandsworth Council, who was promoting the borough to encourage investment Wandsworth to developers.

Opposition councillor for Latchmere, Simon Hogg was informed that the trip was not costing the Council anything and that Cllr Govindia was there as part of the Nine Elms Vauxhall Partnership who were part of the London Stand at the exhibition.
The email stated that: "The total cost including those associated with the display area and logistics comes to £27,700. The entirety of this cost is covered by contributions / sponsorship from the landowners and developers that form the Partnership. These include Taylor Wimpey, Battersea Power Station, CLS Holdings, St James, Ballymore, McGrove and Royal Mail Group."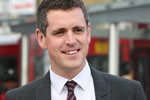 Cllr Hogg criticised the trip telling PutneySW15.com: "I don't know a single local family who thinks they will have a chance to rent or own a home in the new Nine Elms developments. The Tory council should stop working for property developers and start working for local people."

A council spokesman pointed out that there were many London boroughs at MIPIM plus cities such as Birmingham & Manchester, he said: "Our council leader represented the borough at this important event and worked extremely hard to attract significant investment to Wandsworth and in particular the Nine Elms opportunity zone which is set to deliver 20,000 new homes, 6.5m sq ft of commercial and office space plus a new tube link to this underdeveloped part of south London. His trip there did not cost taxpayers a single penny.

"The construction phase in Nine Elms alone will create around 20,000 jobs with a further 25,000 permanent ones to follow. Rather than criticising and complaining the GMB and their supporters should be applauding these efforts to attract investment and the creation of so many jobs and new homes."

April 1, 2015