Two New High Speed Catamarans Delivered
---
Vessels will soon be arriving in Fulham, Putney & Wandsworth
Two new high-speed catamarans arrived in London today to boost river transport in the capital. The boats, made in Tasmania, cost £6.5 million and are the first to be added to the MBNA Thames Clippers river bus service in seven years.
They will add extra capacity to the RB6 route from Blackfriars to Putney, which has seen a 40% increase in passenger journeys in the last 12 months.
The 150-passenger vessels - named Galaxy Clipper and Neptune Clipper - will also be used on other routes during periods of high demand.

Seen above on the cargo ship that brought them into the Thames a 15,000-mile journey they were officially named by Annamarie Phelps & Charlotte Taylor this morning with champagne bottles smashing. The boats were then lowered on to the Thames - see image below.

London's river transport network has also been enhanced by the installation of pay as you go Oyster readers on all piers served by the Clippers, while the new Plantation Wharf Pier will open next month on the south bank of the Thames between Battersea and Wandsworth bridges.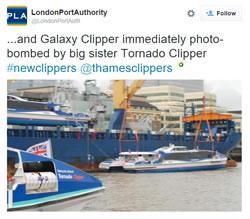 Richard Tracey, Mayor's River Ambassador and Assembly Member for Wandsworth, said: "This is a major step for river transport and a real boost for the service along the western reaches to Putney. Next step – all day services to the west."
London mayor Boris Johnson said: "These fabulous, top-of-the-range vessels will make it even easier for Londoners and visitors to our city to get from A to B by boat. Along with the introduction of Oyster readers and a major investment at Plantation Wharf, the delivery of these stunning new Clippers show that it's full steam ahead for travel on the Thames."


October 23, 2015