Journalists at Wandsworth and Wimbledon Guardians facing redundancy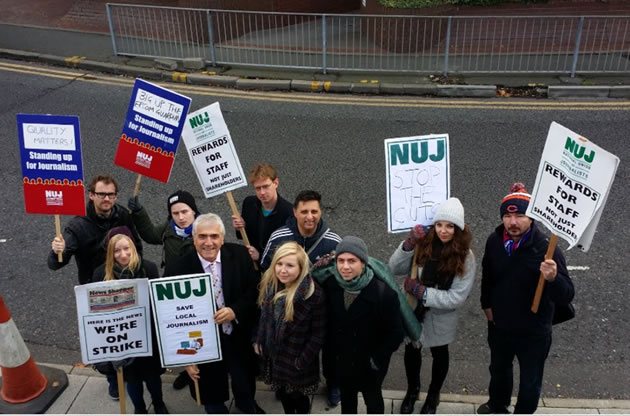 Merton Council leader Stephen Alambritis joins the picket line. Picture: @cutsquest
Staff at the local newspaper group which publishes the Wandsworth and Wimbledon Guardians have voted to extend their strike by a further five days.
They are protesting against restructuring plans by the Newsquest group which would mean that only twelve reporters would be employed to cover news and sport for the eleven newspapers and associated web sties which are published from their Sutton base.
The decision to extend the strike came after what staff say is the failure of Newsquest to address their concerns and the ending of its consultation without meeting reporters and sub-editors whose roles are due to change radically. Seven reporters have resigned over the plans already according to the National Union of Journalists (NUJ).
The present strike action will end this Wednesday (19 October ) and then recommence on Monday 24 October until the end of the week. The newspapers are still being published with stories being written by Newsquest employees outside of the South London area.
The NUJ say their representatives were repeatedly stonewalled by managers who failed to explain how their plan will work in practice. Talks at ACAS, the arbitration service have already stalled.
An NUJ chapel spokesperson said, "Our centre's annual cost has dropped by about £380,000 since March, because departing journalists have not been replaced and photographic coverage has been slashed. On top of that, Newsquest wants to save more than £250,000, and has simply refused to negotiate."
"Our strike continues and our resolve is undiminished. All we want is to report the news and celebrate our communities. We totally reject Newsquest's plan for reduced coverage and generic content that will rob local communities with the news and features relevant to where they live. By reducing the quality of the newspapers and websites, how can we build up circulation and be a viable prospect for advertisers?"
The union say that Newsquest's latest company accounts in 2014 show the firm made £60 million profits before tax.
The strike has attracted support from politicians across the newspapers coverage area and the political divide with Tooting MP Rosena Allin-Khan joining a protest outside the House of Commons and Stephen Alambritis, leader of Merton Council, visiting the picket line in Sutton.
Simon Hogg, Labour group leader of Wandsworth council said, in a letter to Henry Faure Walker, Newsquest CEO, "Your staff are your biggest assets. Journalism still attracts bright, ambitious young people. As a local councillor I've met some tough and brilliant Wandsworth Guardian reporters."
Tony Arbour, chairman of the London Assembly, said, "This proposal undermines democracy in South West London and the credibility of Newsquest titles."
A spokesperson for Newsquest spokesperson said, "The NUJ and its members have been made fully aware of the trading position of the South London business and the need to revisit its cost base to ensure a sustainable future. During talks the NUJ and its members were invited to discuss, review and propose a workable structure within a reduced cost base – which they have failed to do. Sadly, as a result, talks broke down.
"Clearly it is regrettable that this restructuring puts a number of roles at risk of redundancy, but we are doing this to ensure that the South London business – which is made up of free newspaper titles – has a credible future."
Newsquest owns newspapers and websites including the Croydon, Epsom, Sutton, Wandsworth and Wimbledon Guardians, the Richmond & Twickenham Times, the Surrey Comet and the News Shopper in Bexley, Bromley, Greenwich and Lewisham. The latest cuts are in a series which include the closure of the Richmond & Twickenham Times/Surrey Comet office in June 2014 and the closure of the News Shopper office, in August 2015. Last month Newsquest ended its arrangement with a professional picture agency to provide photos for its papers and web sites.
October 19, 2016