Theresa May opens Diabetes UK's new office in London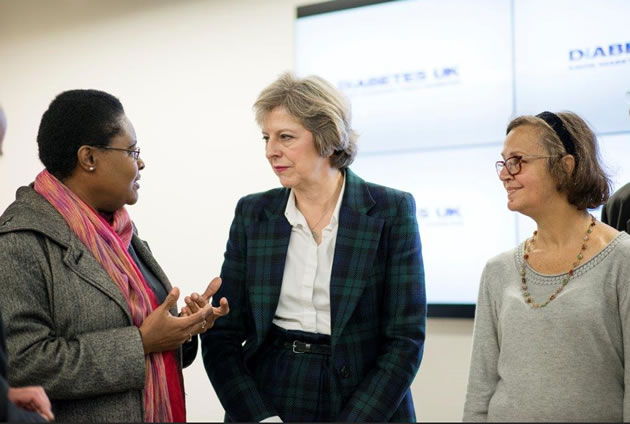 Julia Tyson, right, with Theresa May and a fellow volunteer
Julia Tyson, a Brentford-based volunteer with Diabetes UK, has met the Prime Minister, Theresa May, at the recent opening of the charity's new offices in central London.
Julia, who has Type 1 diabetes, runs several Diabetes UK and Hounslow Diabetes Group stalls in Hounslow including a weekly one the Chiswick Health Centre on Tuesday afternoons. She also runs monthly stalls at the Brentford Health Centre and Feltham Health Centre. Julia is also a 'Community Champion' for Hounslow, taking the healthy lifestyle message to groups and organisations across the borough.
The Prime Minister met with the charity's staff and volunteers at Wells Lawrence House in Whitechapel. Wells Lawrence House is named after the two founders of Diabetes UK, the author HG Wells and his doctor Robert Lawrence.
Diabetes UK chief executive Chris Askew and the Prime Minister discussed support for people living with Type 1 diabetes, how to raise awareness of potential complications and what is being done to tackle the rise in number of people living with Type 2 diabetes.
Prime Minister Theresa May said: "It's a real pleasure to officially open the new offices. But it's an even greater pleasure to meet some of the people who work here at Diabetes UK, to meet volunteers and community champions and to hear about the great work you're all doing in so many different ways."
Diabetes UK's chief executive, Chris Askew, said: "The opening of our new building marks a new chapter in how we combat the crisis in diabetes, and we thank the Prime Minister for joining us. We need others to take her lead in finding out about how we tackle the fastest-growing epidemic of our time and what its serious, life-threatening complications mean for people and the NHS."
Diabetes UK funds critical research, improves healthcare and treatment, and prevents yet more people developing this potentially life-threatening condition. For more information about the work of Diabetes UK and diabetes education programmes in the UK please visit www.diabetes.org.uk.
December 7, 2016