Praise For Local Care Staff
---
CQC inspection praised the kind and respectful team at The Pines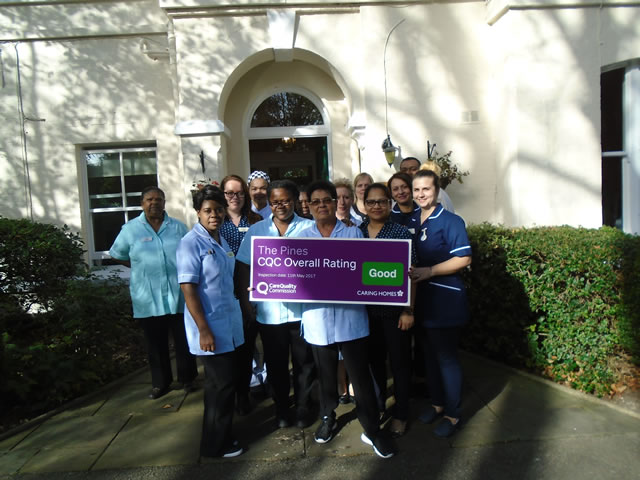 The team at The Pines celebrate their good CQC result
The Pines care home on West Hill has been praised in its latest CQC inspection report for having a kind and respectful team of care staff. The home was rated as providing a 'good' care service in the latest inspection.

Residents told the Care Quality Commission (CQC) inspectors they felt safe at the home and were treated with dignity and respect by the care team. One resident said, "This is my world, they help me with anything I want."

Part of the Caring Homes Group, The Pines is situated in a beautiful period property and aims to provide an oasis of tranquility. The Pines provides residential and nursing care for up to 42 elderly residents.

Residents reported to the CQC that the care workers were friendly and went about their daily duties in a calm and relaxed manner. Privacy and dignity were seen to be respected.

"The staff are kind and show me a lot of respect. They really care." Another resident added, "They are lovely. I can't fault anything here."

The report continues that an activities timetable was on display at the home and included musical bingo, reminiscence sessions, beauty therapy, pet therapy and floor games. Residents were seen enjoying the activities and for those who stayed in their rooms pets from pet therapy were taken to visit them.

Pratheesh Nair, Home Manager, said: "At Caring Homes we want to ensure that our home is just that – a caring home. We are all extremely happy that the CQC inspectors have recognised the changes and improvements which have been implemented at The Pines. The Good rating reflects the hard work which has been put in by every member of the team here."

To find out about life at The Pines the inspection team spoke to six residents, three relatives and one friend who was visiting The Pines. Inspectors also interviewed four staff, the home manager and the training co-ordinator. Records including those for care, medicine administration, staffing, training, complaints and audits relating to management were also looked at.

October 31, 2017