Putney Nursing Home to feature in For the Love of Dogs
---
Paul O'Grady takes rescue dog to The Pines as part of a dog therapy session



Paul O'Grady and Chester with the residents at The Pines
Residents, relatives and colleagues at The Pines in Wandsworth will be gathering to watch the latest episode of For the Love of Dogs on Wednesday hoping to catch a glimpse of themselves after filming took place at the home back in August.

Animal lover extraordinaire Paul O'Grady returned to our TV screens last week for the brand new eight-part series at Battersea Dogs and Cats Home, ready to meet a whole new round of canine faces. Episode 2 sees Saluki Chester who was found abandoned at the side of the road badly injured.

The vets examine him and discover he may have been attacked by a bigger dog and will need to stay with them for at least a few weeks. Paul attempts to help him on the road to recovery by taking him on his first walk since he arrived at Battersea, but Chester is very nervous and wants to go back inside. As he grows in confidence, Paul takes Chester to The Pines as part of a dog therapy session.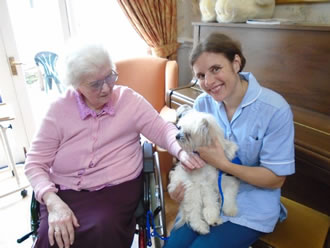 Betty the Chihuahua and Olive the Bichon cross also visited The Pines with their handler Ali Taylor, both small dogs they loved being made a fuss of and sitting on people's laps. Julie Twidle, Home Manager at The Pines, said; "We are all quite excited to see how much the home is featured in the finished programme. We had a busy day when Paul and the team and the dogs were here filming and Paul was great with all our residents."

Watch For the Love of Dogs on Wednesday night on ITV starting at 8.30pm.

For more information visit www.battersea.org.uk/about-us/paul-ogrady-love-dogs
November 5, 2018